AI-powered ChatGPT attracts attention, is free to try!
What's the future of technology? Will artificial intelligence (AI) overpower search engines in the future? This is a trending topic that many businesses and people are experimenting with today.
ChatGPT is a natural-language, text-generating AI chatbot developed by OpenAI, a U.S.-based artificial intelligence research lab. From composing emails and essays to writing computer code, the AI tool can be used for many things. The tool launched for free public use on Nov. 30, 2022. The tool and others like it could challenge today's search engines and change the way you search the internet in the future.
Microsoft recently integrated ChatGPT into their Bing search engine. As of March 2023, ChatGPT hit the one billion users mark. Google is working on a similar AI solution that will soon be integrated into their search engine as well. Click here for information to help decide which search engine may be best for you.
According to an analysis by UBS Global Wealth Management, ChatGPT is currently the fastest-growing app on the market. They predict ChatGPT and other similar tools will eventually control more human interactions with computer systems in the coming years. They also predict that AI tools will serve as a solution rather than a problem for our economy.
What could this mean for you?
A recent test showed that upon request ChatGPT can quickly compose a resume and cover letter, for example.
Try ChatGPT yourself. There are two simple options to access it:
Go to Bing.com, and ChatGPT will be the first option for assistance in the search engine bar. You can choose between conversation styles, such as "more creative, "more balanced, or "more precise."
OR
Go to chat.openai.com and sign-up for a free account.
Draft a resume or plan a vacation
After choosing one of these options, choose a task, such as composing a resume for a customer service job application. After typing "Come up with a customer service job resume," the results will likely look like the image below. The information can also be exported as a PDF, text, or Word document.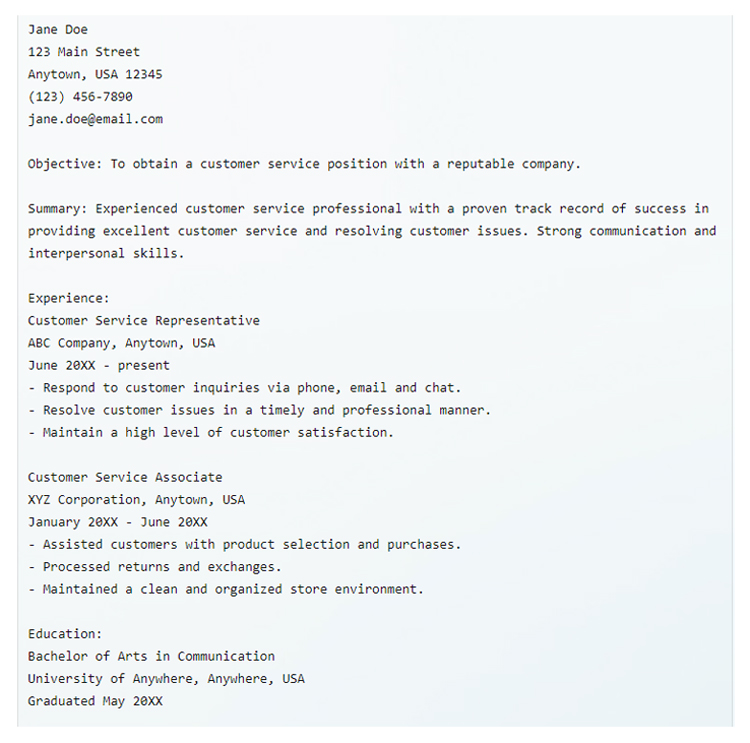 You could also ask ChatGPT to plan your perfect vacation. Type in "plan my perfect vacation." Then, the AI tool will ask specific questions targeted at your preferences to help determine the best vacation for you (as shown below).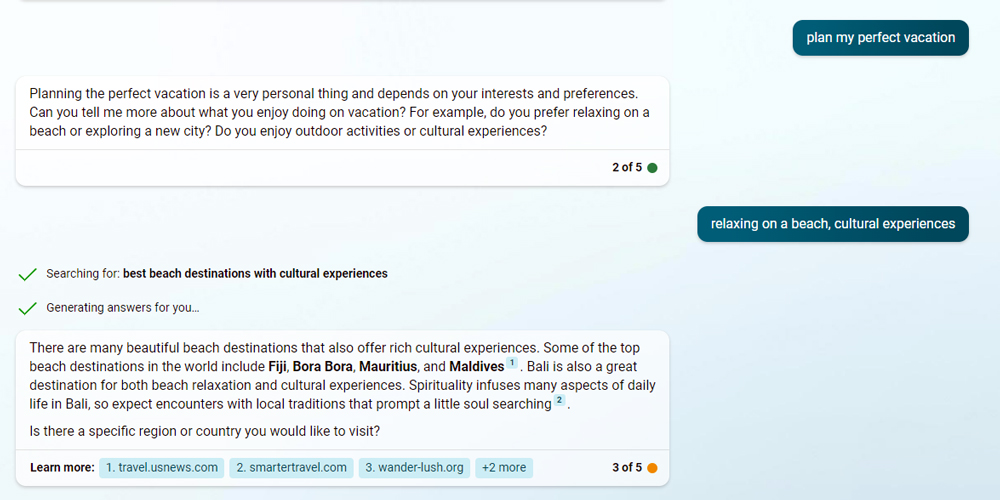 ChatGPT results must be carefully reviewed and may need to be edited, but the tool can still be a great place to begin. For example, you may not have all the customer service experience or skills ChatGPT lists on its resume. But combining the automated process with careful personal review could help you land that new job.
Things to watch for
Even though there are great advantages to using AI, there are potential downsides. AI tools like ChatGPT may make it harder to discern phishing scams and could perpetuate biased information. While the tools are quick and easy, they don't adapt to language like humans do, such as the use of slang and sarcasm.
This new AI-powered tool is quick and often – though not always – accurate which could save time and relieve stress. Whether you need help composing an email, preparing a job application, or deciding the best place for that dream vacation, ChatGPT may be worth a try.
Golden West does not endorse any product or service it does not sell.
Sources: UBS Global Wealth Management, Microsoft, Forbes, Time Magazine