'BAD' Grandma turns crafting
passion into 'good' business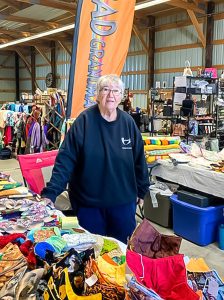 The name may be Crafts by BAD Grandma, but Beverly (Bev) Duffel has turned her hobby into a good business, supporting herself by selling homemade crafts.
She has been a lifelong crocheter, and she started quilting to help spruce up her husband Ron's woodworking pieces that he sold at area markets. With the help and support of her family, she turned her hobby into an online business after her husband passed away.  
"There have been high demands running my own business, but my family has helped me tremendously," she says. "The customers have also been very understanding of the services I offer, as well as the time needed to complete them." 
Bev says it's difficult to start something on your own. Having someone to support or assist you – whether that be physical, emotional, or psychological – is critical. 
Where It All Began
Bev and her family came up with Crafts by BAD Grandma as the name because her full initials spell out the word, B.A.D. (Beverly Ann Duffel). Once COVID hit, her children suggested she start a Facebook page to highlight her crafting talents. She began marketing her business by joining local garage sale sites and national craft groups on Facebook. 

Flexible, Reliable Services

 
Bev moved to Freeman at the start of the pandemic. Golden West hooked up her services, allowing her to run her business in the comfort and safety of her home.
"Golden West hooked me up to the internet without coming into the house, which was nice. At that point, starting this business seemed like the most logical choice," Bev says. 
Today she sells her crafts mainly throughout South Dakota. She has also sold to people in Maryland, Alabama, Hawaii, Minnesota, Nebraska, Texas, and other states. Her favorite part of having her own business is not having someone tell her what she can and can't do. She gets to decide on what crafts she wants to make and the final design.
Bev originally used her crafting hobby as a stress reliever when she was a nurse. Now she's grown her hobby into a business that requires her to learn different computer and business skills, such as navigating social media and calculating sales tax.
 "I think as you age and get older, the more you continue to use and challenge your mind, the better it is," Bev says.  
Consistent Routines, Goals

 
Following a consistent routine and setting goals are essential for successfully running Crafts by BAD Grandma. Each night, she makes a mental list of items she needs to complete. This way, she knows which craft to work on right away the following day. 
"I believe it's better to think about what projects to do immediately the next day and sleep on it, versus waking up in the morning and not doing anything," Bev shares. 
These small tasks, plus everything she needs to do to satisfy her customers, keep Bev going. She doesn't want her business to overwhelm her to where she doesn't enjoy it anymore. 
"I want to do what I enjoy doing and choose to do. My goal is to sell enough so I can purchase the supplies to continue my addiction of crafting," she says.  
You can visit or order from Crafts by BAD Grandma on Facebook, https://www.facebook.com/craftsbybadgrandma, or find her at local arts and crafts shows.