Smart Technology Can Help Seniors Stay Home Longer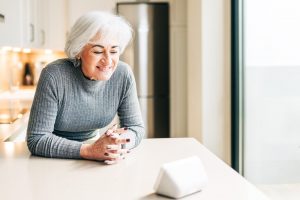 With an internet connection and the right technology, things like adjusting the thermostat and turning the sprinkler system on or off can easily be done from across town or around the world.
Smart technology can also help seniors remain independent in their homes longer as they age. Many tools already exist with more coming on the market all the time to minimize potential safety hazards associated with physical and cognitive challenges.
7 Aging-in-Place Technologies
Here are seven technologies that can help seniors age in place longer. Some of these may already be in place but not yet being used to their fullest potential. Others can be purchased for a small fee with a few instances requiring monthly subscriptions.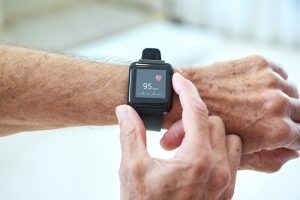 Video Doorbell – This smart technology from Ring, Arlo, Wyze, and other brands can easily be installed using wiring from an existing doorbell. It allows the resident – and off-site family members and caregivers – to use a smartphone or tablet to see who comes to the door in real time or after the fact.
Home Monitoring System – A camera security system can visually show activity inside and outside the home. Systems also offer motion detection capabilities, entry sensors for doors and windows, climate sensors to track the temperature, leak sensors for bathrooms, and more. For added peace of mind that loved ones are safe and secure, these items may also offer customizable, automated notification options for family members and caregivers. These systems are made by the same companies as the video doorbells.
Stove Fire Prevention Device – Versions of this device will either blink or sound an alarm if the cooking temperature gets too high or automatically shut off a stove if left unattended.
Smart Watch – A smart watch from Apple, Garmin, FitBit and many others can track heart rate, blood pressure, body temperature, and sleep. Many can also track an aging loved ones location and will alert 911 if there is a fall. GPS will be needed for functionality outside the home Wi-Fi network.
Virtual Assistant or Smart Speaker – Amazon's Echo or Google Home allows homeowners to control things with their voice. They can give verbal orders to lock doors, turn lights on and off, adjust the thermostat, view camera feeds, or call a loved one. These devices can also be programmed to remind someone when they need to take medication, eat dinner, or go for a walk. The audio alerts can even use the comforting voice of a relative.
Smart Medication Reminders – From smart mobile apps to automated dispensers, there are options to help manage prescription pills, times, and doses. These can also share prescription details with others or request refills, sometimes for a fee.
Personal Emergency Response System – For those without an internet Wi-Fi connection, the Personal Emergency Response System still works over the phone. At the push of a button the system will call for help in an emergency.
Additional Considerations
There are other things to consider when using smart devices like those on this list. These include balancing technology with a personal touch, respecting people's privacy, and being sure to have a plan in place should any device indicate a problem.
High-tech solutions like these were meant to complement, not replace, human interaction. Maintaining relationships still plays an important role in keeping seniors happy and healthy.
Smart devices can also create ethical questions. Technology should never be used to violate someone's privacy. People should always know when they are being monitored.
And monitoring is only the first step to keeping someone safe. It's important to know what the next steps will be when something goes wrong.
Golden West does not endorse any product or service that it does not provide.