Rural Philip woman finds niche working remote for USDA team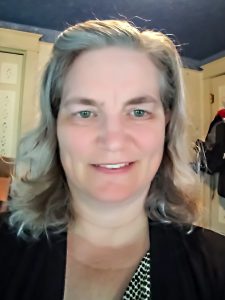 It's not an uncommon story. While attending South Dakota State University, an East River girl met a West River cowboy, and the two eventually married and moved to his family's ranch in rural Western South Dakota.
For Tanya and Arthur McIlravy of rural Philip, that's their story from 30 years ago. The couple has raised three daughters – Amanda, Anna Belle, and the youngest McKenna, who is currently a senior at Philip High School – while Arthur has ranched full time and Tanya has built a career working with the federal government.
From Commuting to Connecting
For the majority of the past 30 years, that meant Tanya commuted 14 miles from the ranch to town to work in a traditional office setting. She worked at the Farm Service Agency (FSA) in Philip for over 18 years, and prior to that had roles with Haakon County Conservation District, the Natural Resources Conservation Service and Forest Service.
Early on in her career she also had her own part-time work-from-home business (Pixel & Paper) doing bookkeeping, website design, and desktop publishing for clients. That gave her a taste for "remote work," and she always hoped to work remote again one day.
Then, during the pandemic and USDA office closures, Tanya worked from home with her FSA job for a short period. Her Golden West fiber optic internet connection and telephone landline made that easy and successful – proving that telework and remote work for FSA was possible and productive. This is something Tanya had been advocating for over a decade as part of the employee's association. It also reignited her interest in working remotely full-time.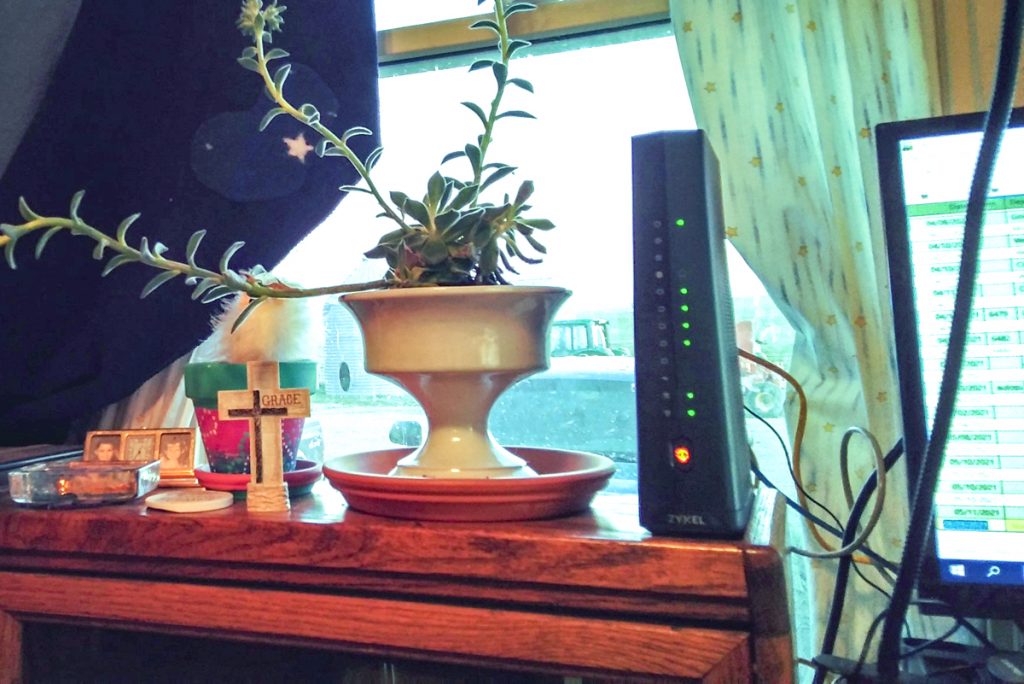 Additionally, the McIlravy's time at home during the pandemic also expanded their use of the internet for online services, seeking out things needed on the ranch, and, most importantly, staying connected with family. Several family holidays were shared via video chat, which required lots of bandwidth as the numbers of households connecting increased. Tanya hopes to continue utilizing video chats into the future to help maintain family connections among relatives who live across the state and country.
Given those experiences, when an opportunity came up for a remote position with the USDA Farm Production and Conservation (FPAC) Business Center, Tanya promptly applied and was selected. Since June 2021, she has worked remote full time as part of a 10-person national team responsible for USDA inter-agency agreement billings and collections.
"I knew I could successfully work remotely from home because of our high-speed, secure internet," Tanya says. "With USDA we have to work via a Virtual Private Network (VPN) for security, and I really do appreciate the [internet] speed we have through Golden West."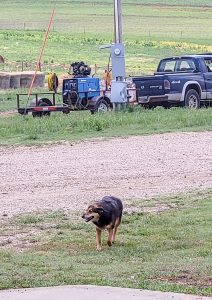 Tanya is also appreciative of her telephone landline and explains that because the ranch is at the bottom of a hill and their house has steel shingles, their cell phone reception isn't always reliable. The landline is also important when weather events take down cell towers.
"We won't get rid of our landline," she says. "I like having both options of a cell phone and landline – and I like being in the phone book."
A generator is another important tool for staying connected when weather interrupts electrical service. With a landline and router, Tanya can work and keep in touch with friends and family, as well as call for any emergency services if needed.
Bevy of Benefits
As she takes time to reflect on what her new remote job has meant, Tanya says the benefits have been many. Not only did the position allow her to advance her career and earn a promotion, but she has also gained flexibility with her work schedule.
When her daughter in Iowa was sick, she was able to travel there to be with her, while continuing to work remotely. She did the same taking her younger daughter to an out-of-state sports camp, and kept up her work while her daughter participated in the camp. Work-from-anywhere helps her successfully balance being a great mom with being a great team member, she says.
Additionally, because of her positive experiences with remote work and Golden West connectivity, Tanya has happily shared her experiences with others both locally and in her hometown of Hartford, which is also served by Golden West. She even uses Golden West internet from time-to-time, when working from her parents' Hartford home during visits.
If there's any drawback to remote work, Tanya says it's less time with her friends (former co-workers) at the Philip USDA Service Center. For her husband Arthur, it's probably that she doesn't go to town as frequently, and now he runs all the errands. However, he has seen benefits as well, since she is close by when he needs an extra hand with ranch work. Tanya says she's helped him more in the last few years than ever.
The McIlravy's are also able to use the internet connection to monitor their ranch security system via their phones while away from home.
"Arthur has even been able to detect when cows got into the hay yard, and watch the weather during summer storms and monitor the buildings for damage," Tanya says.
She recognizes that without fast internet speeds and capacity her job and their extra security on the ranch wouldn't be possible. "Our [internet] service adds value," she says.