Travis Electric has grown rapidly,
just like the community it serves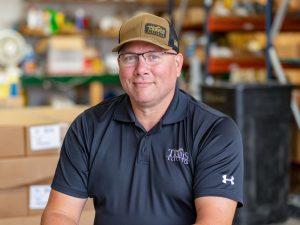 When Travis Kuehl started his own contracting business in 2005, he was a one-man operation. Today, Travis Electric employs 24 people — and isn't done growing yet. Travis credits that rapid expansion to the fact that they are responsible for a wide range of projects.
"I think we're very diverse," he says. "Sometimes that feels like we're spread a bit thin, but at the same time, if one segment of the market is slowing down, we're able to transition to a different area."
Though most of their work is focused in southeastern South Dakota, Travis Electric is licensed in Iowa, Minnesota, and North Dakota, as well.
Taking a leap of faith
Travis and his wife, Wendy, are originally from Minnesota. Shortly after graduating from vocational school in 1996, Travis took a job with Muth Electric in Sioux Falls. When a position opened up in Omaha, Neb., in 2004, he jumped at the opportunity to become a division manager … but it was a move that didn't last long.
"I went to Omaha and started trying to run that division," he recalls. "After six weeks of that and being away from my family, I decided it wasn't the right time."
Wendy was the one who encouraged him to go into business for himself.
"I was about 30, and Wendy said, 'you know, if you're going to do this thing where you go out on your own, you should probably do it now.' So, I started in May 2005."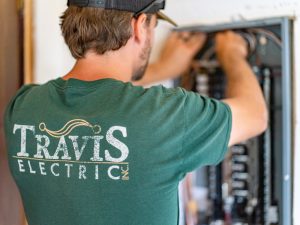 That leap of faith paid off, as evidenced by how quickly Travis Electric has grown. In addition to residential and commercial home and building construction, they are involved in a handful of other projects. Hence, the growth in personnel.
"We're still growing our service department, both commercially and residentially," Travis says. "We've got a full-time estimator, full-time fiber to the home project manager, full-time administrative assistant."
Wendy, who worked for Sanford Health for 20 years, is part of the team, too. As special projects manager she wears several hats, but is mainly focused on software, invoicing, and reporting.
Location, great schools, friendly community
Though the Kuehls are native Minnesotans, it didn't take much for Hartford to charm them. With three young children at the time — Dalton, Madison, and Jocelyn — the excellent school district was a big draw. That and the opportunity to buy a home, but there were other factors, as well.
"We liked the location," Wendy says. "I appreciate the small-town feel. The pharmacy is small, the grocery store is small. Everybody knows everybody, and they're friendly."
They acknowledge that, much like their business, Hartford is growing — but Travis says it's still got the feel of a small community. And with Sioux Falls just an easy 15-minute drive away, there are plenty of additional opportunities close at hand.
"It's a good fit," he says.
Golden West's investment helps the Kuehls
The Kuehls are happy with the role Golden West plays at home and in the business.
"With Wendy working from home, the connectivity and internet speeds are critical to us," Travis says. "And Golden West's customer service has been outstanding. I think the value for the product we get has become even more affordable since they just doubled our speed. That was huge."
Another plus in his opinion is the cooperative's focus on infrastructure.
"I don't know that it has really sunk in for a lot of people," he continues. "But the investment in Hartford has been huge."
Ask Travis about the future of his company and he points to the business's upward trajectory.
"I'd like to continue to grow," he says. "In all segments, including the telecommunications side. One hundred employees is my goal!"
Check out our Meet the Owners Video with Travis Keuhl of Travis Electric in Hartford: