State Honors Hartford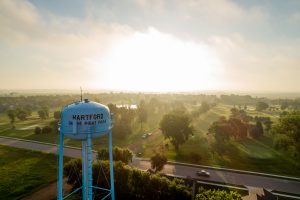 Residents of Hartford are celebrating Governor Kristi Noem's announcement that their town was chosen as South Dakota's "Small Com munity of the Year" for 2020.
Every year, two South Dakota  communities –  one large and one small – are recognized for strides they have made in economic development, community enhancements, added jobs, and quality of life investments. The awards, created in 1989 by former Governor Bill Janklow, are traditionally presented during the Governor's Office of Economic Devel­opment's annual spring conference, but COYID-19 forced the cancellation of last year's event. Governor Noem announced the selection of Hartford in November instead, a declaration that Mayor Jeremy Menning believes validates the effort he and others have put into improving the community.
Award Validates Hard Work
"l was very proud to accept the award," Menning says. "We've seen it go out different times throughout the years and always thought , you know what, it would be quite an honor someday to win that! We knew we were doing a  lot of things we thought were going to push our community forward. It was great to see that somebody  else  recognized t hat, as well. Getting the award was a realization that we are doing the right things!"
Key factors that went into Hartford's selection, Menning believes, are a commitment to downtown revitalization and the Hartford Area Development Foundation's Vision 2025 campaign. The latter project kicked off in 2020 and its focus is two-fold: promoting industrial and economic development and improving quality of life. The city is planning construc­tion of a new wastewater treatment facility and, while not glamorous, Menning says it's the type of project that will benefit the community for the next 50 years.
Sense of Community Makes Hartford Special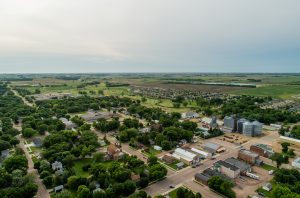 Menning says one of the things that makes Hartford special is the overall sense of community. "So many people are working on different committees and groups," he shares. "There seems to be a sense of can-do and ownership to the community that is undeniable. People know they can make it better and work hard to do so."
Residents and visitors alike find plenty to love about Hartford. The downtown farmers market, held on the first Thursday of every month during the summer, is a great place for families to mingle while shopping for food and crafts from local vendors. Jamboree Days is another big draw; the annual three-day event takes place over the third weekend in Ju ne, and features food, entertainment, a parade , and a tractor pull. First-timers will get a good sense of the community by visiting Buffalo Ridge Brewing Project and Hartford Steak Co. Tavern according to Menning.
"If you're visiting town and you've never been here, you can do both in the same night and you'll get a pretty good idea of what Hartford is," he says.
Growth is inevitable in the future, but as long as it's managed properly, it will be beneficial to both long-time residents.
"We're going to grow, whet her we try or not," Menning says. "We want to put a lot of planning and effort into making sure we grow in the right directions and don't lose our sense of identity. It's going to be exciting as we see more and more peo­ple coming into our community; the challenge is making su re we get them involved so they have the same sense of owner­ ship and community that many of us have here already."