Small-Town Designer's Journey Leads to a Life Full of Creativity

 
Kelly Wollman may be just a small-town girl, but she isn't living in a lonely world. Between her family and two successful businesses, life is quite full for the Bonesteel woman. Journey reference aside, Kelly owes her success to the fact that she didn't stop believin' in her abilities to achieve greatness. 
From Medicine to Design

 
When her parents bought their first computer, young Kelly realized she had a calling for design. She often used the new device to create graphics. After high school, Kelly changed course and began to study radiology in college. It wasn't long before she realized graphic design was her destiny, so she switched and majored in graphic design with a minor in art at Black Hills State University.  
A Big Change

 
Following college, Kelly and her husband, Jeremy, moved to Jeremy's hometown of Bonesteel. Here, Kelly put down roots for her two businesses.  
A few years into living in Bonesteel, Kelly and her then boss learned that the local paper, the Bonesteel Enterprise, was either going to sell or completely disappear. Kelly's boss at the time decided to take over the local paper with her on board as managing editor. After a lot of thought, she decided to become the owner in 2017 and purchased the newspaper.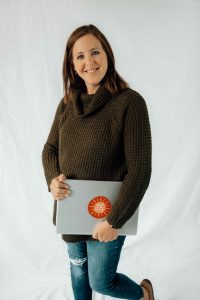 "The time felt right," explains Kelly. "I wanted to dream about something else that would be more fulfilling for me and would free up time for my family."  
At that same time, Kelly started her graphic design and marketing business, Be Creative. The two businesses are housed in the same Main Street building, and they both focus on communications.  
"Creativity is a huge communication tool. I'm grateful to be able to help small businesses find their look and utilize it," she elaborates.  
Although she never imagined owning a local newspaper, Kelly explains that words are a form of art. She knows words are just as important as the visual and can be equally beautiful.  

Wearing Many Hats

 
The Bonesteel Enterprise is a small, eight-page paper that covers local events in two to three articles per week. Kelly isn't just the owner; she is also the reporter, photographer, editor, and designer for the paper. To take a little bit off her plate, the paper is printed and mailed to subscribers from Armour.  
Kelly enjoys all aspects of the paper but loves its history the most.  
"We have archives from all the way back in 1920," Kelly says. "Having history from this community is very important, and I play a part in keeping it for younger generations."  
Her top priority with the paper is to keep the community connected. She is thankful that Golden West can help with that. 
"In rural South Dakota, it's nice to know you have a company focused on bringing internet to you," she says. "I can pick my office up and take it home because I have internet at both. Throughout the pandemic, I could work wherever I had to." 
The Cherry on Top

 
As much as Kelly loves running the Enterprise, her passion lies in Be Creative. Her focus has always been graphic design and marketing, and this endeavor allows her to help other businesses find their groove.  
Overall, Kelly loves the variety she has in her everyday life. With Be Creative, she gets to talk to different clients every day and consistently tackles new challenges.  
Recently, Kelly created a website for her friends who own Black Hills Tire in Rapid City. She entered the site into the annual competition of the Black Hills chapter of the American Advertising Awards. The site won a Silver ADDY Award in the Online/Interactive Consumer Website category.  
Kelly debated about entering the website for quite some time before telling herself, "If you don't try it, you're never going to know." From her small-town home, the award seems much bigger to her.  
"People in the wider spectrum might often count out a small business in a small town," she explains.  
With this new award under her belt and Golden West internet services at her side, the future is bright – not only for Kelly, but for Bonesteel, as well.