Soaking Up History
Mineral spa rejuvenates locals and visitors in Hot Springs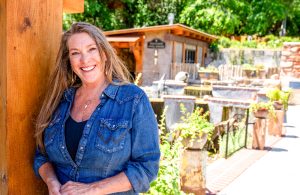 Kara Hagen first noticed the vacant hot springs property that would become Moccasin Springs Natural Mineral Spa in 2002.
"It was an old abandoned property," she remembers of the Hot Springs location. The year prior, Kara had purchased a building in town and wasn't in the market to acquire another property. Yet she innately understood the potential of the springs. "But it wasn't the time in 2002," she says.
Indigenous people were said to have used the moccasin-shaped warm mineral pools long before any white settlers arrived in the area. The waters have been compared to the famous hot springs of Carlsbad, Germany, thought to have healing and restorative powers.
In 1881, the first spa was officially opened at the location, aptly named the Black Hills Spa. In 1890, the Dakota Hot Springs Co. built the Hot Springs Hotel and Minnekahta Bath House on the property.
'Untapped potential'
In 1963, the hotel and bathhouse officially closed and remained that way until Kara saw the potential in the location. But she didn't make a move for another 12 years.
"I kept driving by and driving by," she says. "It was such an untapped potential. Everyone said 'Someone should do this or someone should do that with it' … and I just kept thinking about it."
In 2014, that thinking turned into action, and Hagen bought the property and proceeded to turn it into Moccasin Springs Natural Mineral Spa.
In May 2019, Moccasin Springs officially opened for business.

Expanding offerings
In the nine years since Kara bought the property, it has consistently expanded, adding more with each year. Tucked into the hillside and surrounded by pine trees, Moccasin Springs features six pools, four massage rooms, a three-in-one sauna, and a salt room. Temperatures in the pools range from 80 degrees to 105 on average.
Visitors can take advantage of the springs, as well as massages, yoga, wellness treatments and spa treatments. The spa also features Buffalo Dreamer, a restaurant "specializing in food alchemy and organic, farm-to-table cuisine."
Kara chose to retain the history of the pools by utilizing the remains of the former Minnekahta Bathhouse and Open Air Plunge. One especially unique piece of the spa is a brick archway that allows visitors to swim between pools.
Something for everyone
Kara, who also owns the Southern Hills Mercantile and Taproom in Hot Springs, says both the community and surrounding areas have embraced Moccasin Springs.
"We have people from all over coming and we are often completely booked," she says. Locals can purchase memberships and punch cards while out-of-town visitors can purchase individual soaks as well as massages, saunas, a variety of spa treatments and even a meal at Buffalo Dreamer on site.
"A lot of people come from Custer, Hill City, Spearfish … to have a little get away," she says. ""I really like the idea of having a place where adults can come to relax."
Internet spurs growth
From the very start, Golden West has made Moccasin Springs' growth possible, Kara says.
The high speed fiber optic connectivity is critical for a modern business, especially a spa, she says. "We really need that connectivity. We have an intricate booking system." she says.
And the service the cooperative provides means Moccasin Springs never feels left out alone. "If I ever have a problem or if I need to really get something done, Golden West is there for us. It happens quickly."
That reliability combined with the high speed connection allows Hagen to focus on her business rather than her internet. "Without that connectivity, we'd be lost."
Connected to history
As Kara continues to bring relaxation, healing, and wellness to her community and beyond, she can't help but feel a deep connection to the history of the Hot Springs community. She loves that people who visit her spa often visit other businesses in her community as well, spreading the impact.
"Having the hot springs, bringing a little bit of history and providing a unique natural spa experience … is really important for me and the community," she says.
And she loves the idea that people find relaxation and solace in her business and it makes her all the more convinced that she made the right decision all those years ago. "It warms my heart to see people having a nice time and leaving relaxed."