Meet Keisha – Serving co-op members and her community!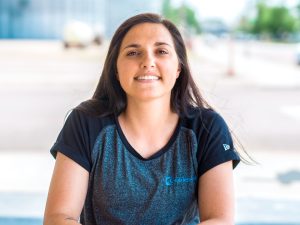 Keisha and her husband Austin were looking for a smaller community with a good school system when they moved to Hartford in 2019.
"My husband and I lived in Sioux Falls, but we wanted to get out of the busy atmosphere," Keisha says.
Keisha grew up in Minnesota and worked in the healthcare field in Sioux Falls. She continued to commute from Hartford for another two years before joining Golden West as a member service and sales specialist in 2021.
"It's definitely changed my whole life, because I don't have to drive 30 minutes to work every day," Keisha says. "I didn't like the traffic going to Sioux Falls and all the people – many on their phone. The winter was the worst with the snow and ice. I'm so thankful now that my work and daycare are all in Hartford."
Calling Hartford home
Through Golden West, she enjoys getting more involved in the Hartford community and helping local customers. She also appreciates working for a company that treats customers and employees as more than just a number and likes getting to know those customers and coworkers.
"Golden West is a co-op, which means that it is customer owned," Keisha says. "We provide a lot of scholarships and promotions, and money for different events that go on throughout Hartford and the different communities that we provide service."
A day in the life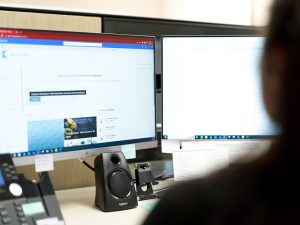 Keisha spends her days on the phone, handling customer service calls. She likes hearing from customers who are satisfied with their new connections and who share kind comments about customer service efforts.
But when a challenge arises, Keisha receives support from her coworkers, who lead her in the right direction. Fortunately, she says she's never had to deal with too many stressful situations.
"The staff here all works together very well," Keisha says. "And that's really nice to have."
Looking ahead
Looking ahead, Keisha wants to stay at Golden West and keep working her way up when opportunities arise. She and Austin plan to stay and be a part of Hartford for a long time.
"That's the nice part about Golden West – you'll see somebody at the gas station, and they'll ask how you're doing or if they can help you with something," she says. "I enjoy that small-town friendliness and atmosphere."