Living the 'Good' Life in Long Valley
With a passion for rodeo events and training quality performance horses, Allen and Beth Good are right at home on their ranch in Long Valley — a family sanctuary for over 70 years.
Located 26 miles south of Kadoka in the shadow of Eagle Nest Butte, the Good Ranch was settled by Allen's grandfather Alfred in 1936. After the Dust Bowl of the 1930s forced him to leave Kyle, he and his family passed through Long Valley and were enamored with the area — so much so, they decided to stay. The family has owned the land ever since.
"I'm proud that we could keep it," Allen says. "A lot of people have had to sell out. So far, we've been lucky. It's a really good ranch: well-watered, good grass, with good protection. It means a lot that we're still here and can take care of it."
Discovering a Niche Market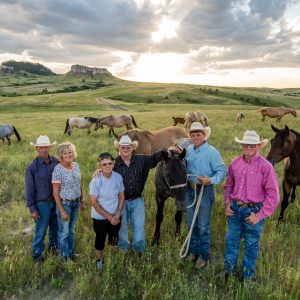 Allen's father, Gordon, participated in calf roping and team roping events for the NRCA and SDRA in the 1960s and '70s, sparking Allen's and his siblings' own interests in rodeo. Gordon built an indoor arena in 1979 as a place for the kids to practice. Allen began training his own roping horse at the age of eight, and within a few years was steer wrestling. As they got older, they used the space to train and breed horses, in the process finding a niche market.
"There's nobody that really wants to train steer wrestling and hazing horses," Allen explains. "We had a team of dogging horses in the '80s and '90s that were seven-time circuit horse champions. I wanted some bred like that, but there weren't any around. We started breeding horses about 20 years ago."
The Goods buy prospects, which they train and resell. Everything else they raise is used on the ranch, which today includes a cow-calf operation.
"It's fun to take a young horse and see how good you can get him," Allen explains. "Jake Rinehart, a steer wrestler from Highmore, rode a horse that I trained at the National Finals maybe ten years ago, and that was a big deal. To see one that you started go across the television screen was a high point."

It's a Family Affair
Naturally, when Allen and Beth's sons were old enough, they, too, got into rodeo. Carson, now 22, started steer wrestling at age 14, and Denton (16) first rodeoed when he was 12. Denton has won three world titles, and Carson won high school titles in steer wrestling twice — on a horse the family trained. It's always been a family affair; Beth, who participated in high school rodeo in Wisconsin, runs the chute, and Gordon, now 77, still hazes and ropes.
The Goods hold steer wrestling clinics every year, typically the first and third Saturdays in April. "They're a one-day clinic, and we take it from ground zero until they fly," Allen says. "It's all day, 8 a.m. until midnight if they want. We've had little kids, 9 or 10 years old, and teach everything from chute dogging through jumping. I've had people from Idaho, Utah, Texas, Missouri, a lot of states come out. We found one-day clinics work best because everybody is so sore the second day, they don't get anything out of it."
Technology plays an important role in the Goods' operation. Allen appreciates having fast, instant access to the internet from his ranch today.
"It used to be that you just called people," Allen says. "Now, we sell horses on our website and have information about our training school."
Despite the hard work and expense involved in maintaining a ranch and participating in rodeos, Allen wouldn't change a thing.
"Our family is really close, and our values are pretty high because of rodeo and the way we were raised," he says. "We're all there together, helping each other."