Keep cherished photos and memories intact forever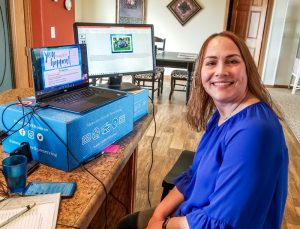 Seven years ago, Lori Lafferty found herself in a situation all too familiar to many. Her photos and memories were scattered everywhere – from her cell phone to flash drives to SD cards to computer hard drives to her Google Drive. She was overwhelmed.
"I needed to get all of this in one place, somewhere I could easily access my photos," Lori says.
A Golden West member from Reliance, Lori didn't realize her need for help until she experienced her computer hard drive crashing. She lost a year and half of photos of her daughter. Devastated, Lori knew she needed to find a different place to store all of her precious memories.
A supportive solution
While searching for a solution after her hard drive crashed, Lori came across FOREVER.com. With her Golden West services, she's now an ambassador for FOREVER and the business she started, Photo Legacy Digital Solutions, is on Facebook. She uses her Golden West services to support herself and her clients in assisting with digitizing old memories and organizing their scattered memories into one place using FOREVER.
Lori holds monthly in-person gatherings with her clients to collaborate on photo organization and share ideas on how to turn their memories into keepsakes, such as photobooks. Lori says her clients can find comfort through her weekly Zoom meetings in the winter thanks to reliable Golden West services.
"Having that fiber connection allows me to do my Zoom sessions with clients, even when it's 20 below in the wintertime," Lori says.
Safety options for digitizing photos
Lori acknowledges that one of the greatest fears people face is not knowing who to trust with digitizing their photos. Precious wedding videos and albums often exist in a single copy, making the preservation process critical and delicate.
Lori offers two options for her clients when they're digitizing their memories:
Option 1: Clients can have the FOREVER 'box' sent directly to them. The client packs the box with their memories and sends it in with a provided FedEx label which includes a tracking number.
Option 2: Lori takes care of everything for her clients, including packing and sending their box to FOREVER.
"If there's any questions or concerns, my clients know they can reach out to me," Lori says. "I'm going to follow up and I'll be able to find out exactly what's going on."
Lori also encourages use of FOREVER's permanent cloud storage. It's private and has a 100-year guarantee. Pay a one-time fee for storage or pay over 24 months with prices varying by storage capacity.
"If you can imagine anything you would save in a file cabinet – from insurance documents to medical information to your birth certificate to your lease agreement– it's all right there in my FOREVER Permanent Storage," Lori says.
Golden West does not endorse any product or service it does not sell.