Golden West and Its Customers Must Comply with Copyright Act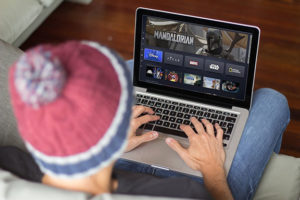 Today – May 4th – has come to be known pop culturally as "Star Wars Day." While it's great to celebrate Star Wars by streaming and downloading, be sure to do so without breaking copyright laws.
Golden West strives to provide a quality user experience and encourages customers to take advantage of any lawful and acceptable content the internet has to offer. While Golden West customers utilize the company's internet service, it is important to remember that federal law prohibits certain practices, including copyright infringement.
What is Copyright Infringement?
Copyright infringement is the act of reproducing, distributing, performing, or publicly displaying a copyrighted work without the permission of the copyright owner. For internet users, this generally translates to downloading, copying, and/or distributing copyrighted music, books, movies, TV shows and other online media from file sharing sites to avoid paying for the content. According to the Digital Millennium Copyright Act (DMCA) of 1998, internet providers, such as Golden West, have certain responsibilities to address this activity on their networks.
Copyright enforcement companies send information related to copyright violations to Golden West, including the name of the material being infringed upon, the time the activity took place, and the public IP address of the computer or network from which the infringement occurred. This public IP address is unique to each user's internet service, acting much like a fingerprint.
Enforcement of Copyright Law
To comply with the law, Golden West uses this information to identify and contact the party responsible. The first time Golden West receives a copyright infringement notice for an account on its network, we will mail a notice to the customer with specific information on the violation and an explanation of Golden West policies related to copyright infringement. Subsequent offenses related to the same IP address will generate additional warning notices to the account holder and may lead to suspension of the internet service.
Golden West encourages all broadband service subscribers to review the company's copyright infringement information and procedures at www.goldenwest.com/support/policies-and-information/. Golden West also recommends that account holders educate other users in their household on the importance of verifying that any content downloaded and/or distributed over their broadband connection is obtained legitimately and from a trustworthy site.
Copyright Leads to More Creative Works
The nation's founders considered copyright laws important enough to include them in the Constitution. The law gives an author or creator of the piece the sole right to copy and distribute his or her work for a limited period of time.
The intent was not for someone to "get rich" from the works they create, but rather to incentivize people to continue to create works for the public to enjoy. Like Star Wars!