Expanding Telemedicine
Pandemic Pushes Health System to Accelerate Plans
Earlier this year, Monument Health started a two-year plan to rollout an outpatient telemedicine program for its clinics. But instead of following their original timeline, the health system went from zero to 600 telemedicine visits in just three days in response to COVID-19.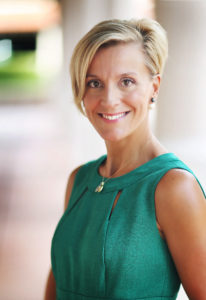 "It has been a radical and swift change," explained Stephanie Lahr, M.D., Chief Information Officer and Chief Medical Information Officer at Monument Health. "I think most people that have been in
the health care technology segment for many years would say this has catapult­ed us to fully adopt telemedicine."
Regulation Changes
The sudden adjustment was necessary for the safety of both patients and their providers. The mid-March easing of federal Medicare and state Medicaid regulations for all health care providers helped make it possible.
Prior regulations only supported telemedicine visits  from  one  clinic or hospital to another. The changes allowed for direct-to-consumer health care in patients' homes. The changes also allowed providers to conduct telemedicine visits across state lines and within the same community as the patients receiving care.
Lahr explained how the changes increased access. She gave the example of a provider who may live and work at either the Monument Health Wall Clinic or a clinic in Rapid City and a patient that lives in Wall. Previously, the patient would have bad to travel to the clinic in Wall or to Rapid City when the clinic wasn't open. The regulation changes can save them a trip.
"We can now deliver any form of primary or specialty care right into the patient's home," she said.
Remotely Monitoring COVID-19
Another example involved Wyoming­ or Nebraska-based patients who receive care at Monument Health's location in Hot  Springs.  Now those patients can remain at borne and have a live appointment with their provid­er via phone or video. Additionally, COVID-19 patients have had the opportunity to participate in a two­ week home-monitoring program that connects them daily with the nurse triage team that tracks their symptoms and elevates care when necessary.
Regulation changes are considered temporary at this point, said Lahr. Any moves toward making the policy changes permanent are currently unknown. Beyond the regulation changes, reliable broadband or high-speed internet also makes these in-home telehealth or telemedicine visits possible via video.
Teamwork
Lahr said Monument Health caregivers have demonstrated incredible commitment during trying times. "Everyone made the best of it, .ran with it, and is now making it work in an integrated way. They have shown amazing resilience and problem-solving."
Patient Visits Provider From Home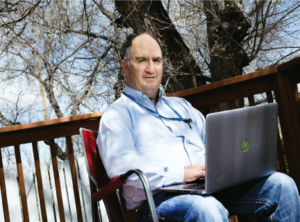 In early April, Golden West Engineering Manager Marty Huether visited bis primary care provider in Wall for a persistent skin condition. He experienced his first telemedicine visit for a follow0 up appointment from his home in Wall . His provider works in Rapid City on Fridays, so telemedicine was a great option.
"It was very easy. They just sent me a text, and I replied to the text when I was ready. I didn't have to download anything, and the picture and sound were good," Huether said. " Best of all, the telemedicine visit allowed me to see the same person. If I had just gone to urgent care, I would have seen someone else."
Huether encouraged others to give it a try. "I think they' ll find their experience will be better than what they expect."