e-Readers Offer a Novel Solution for Reading on the Go
A quarter century ago, the term "e-reader" might have referred to book lovers with names like Edward, Evelyn, and Eugene. The development of electronic paper in the late 1990s, coupled with wider access to the internet, set the stage for the emergence of e-readers and other mobile electronic devices.
Books can be read on specialized readers or on smart phones and tablets via an app. Regardless of the format, demand for e-readers is impressive. The global e-book reader market was estimated at $30.69 billion in 2020 and is forecast to grow 3.7% annually from 2021 to 2026. Print books aren't dead … but they've got some stiff competition!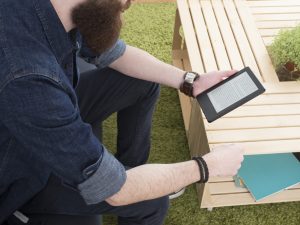 Early Visionary Wanted to Avoid Paper Cuts
Electronic books might feel like a 21st-century idea, but their genesis dates back over 90 years. Bob Brown, writer and publisher, came up with the concept in 1930 after watching his first "talkie." Much as sound revolutionized the film industry, Bob felt the written word was ripe for transformation, as well. He penned a manifesto called The Readies that described "a simple reading machine which I can carry or move around, attach to any old electric light plug and read hundred-thousand-word novels." Brown's futuristic contraption would also "allow readers to adjust the type size and avoid paper cuts."
Two decades later, a Spanish teacher named Angela Ruiz Robles developed the first prototype e-reader after watching her students struggling to carry heavy schoolbooks. Her Enciclopedia Mecánica ("mechanical encyclopedia") contained audio recordings, a magnifying glass, a calculator, and an electric reading light. Crude by today's standards, the 1949 invention was never mass-produced.
In 1971, writer Michael Hart launched Project Gutenberg, a volunteer effort to digitize and archive cultural works and "encourage the creation and distribution of eBooks." That year, Hart digitized the Declaration of Independence by typing the entire text into a computer and making it available for download. Few people realize this historical American document is the first official e-book!
Electronic Paper Ushers in Modern Era
1997 ushered in the era of modern e-readers when E Ink Corporation developed a technology called electronic paper. This enabled digital screens to mimic printed pages by reflecting light without the need for a backlight. Taking advantage of the technology, NuvoMedia released the Rocket eBook — the first dedicated e-reader — the following year.
Several other manufacturers released e-readers, but the devices didn't really catch on with the public until 2007, when Amazon introduced the Kindle. It sold out in 5.5 hours and customers couldn't get their hands on additional devices for five months.
Taking notice of their sudden popularity, other companies followed suit, introducing e-readers of their own. Early competitors included the Barnes & Noble Nook, the Sony PRS-500, and the Apple iPad, which came with an app for downloading e-books. In 2012, e-book sales outpaced those of hardcover books for the first time. By the end of 2013, e-books comprised 20% of all U.S. book sales — hardcover, paperback, and electronic.
Benefits of e-Readers
When e-readers were first introduced, many in the publishing industry feared it marked the end of traditional printed books. That has not been the case; instead, both coexist peacefully. A 2019 survey showed 72% of adults in the U.S. had read a book in some format over the last year, with 28% of respondents reading both print and e-books.
There are many benefits of e-readers — chief among them being portability. With a Golden West internet or Wi-Fi connection, you can download thousands of books (depending on your device's memory) and read them virtually anywhere. They use very little data and take up no physical space. Think of all the money (and clutter) you're saving not having to fill your house with bookcases!
Because many libraries offer electronic titles, you can even read for free by downloading content through apps like Overdrive and Libby. You check out titles just as you normally would and "return" them after a designated period (typically three weeks).
E-readers include features that let you customize the reading experience. Most allow you to adjust the font size and type. Many include built-in dictionaries and allow you to highlight passages or take notes. They are easy on the eyes thanks to electronic paper technology and you can read in bright sunlight or — if there's a built-in light source — in the dark before going to bed. Plus, they're environmentally friendly.
From Bob Brown's proposed "readies" to today's portable devices that can hold a library's worth of titles, e-readers have come a long way in the past nine decades. It's proof that truth really is stranger than fiction!
(Golden West does not endorse any products or services it does not sell.)
Sources: Some information for this article was provided by online articles from TurboFuture.com, GovernmentBookTalk, GlobeNewswire.com, TonerBuzz.com, and Wikipedia.