From books to technology, library connects the community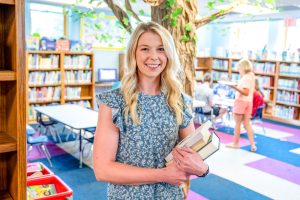 For the past decade, Brittany Moeller has worked to ensure that the community of Dell Rapids has a library that's as high tech as any large city library and a place all feel welcome.
She does it with the help of Golden West's fiber optic connectivity.
"We are so appreciative to have a company like Golden West to provide the internet and services. Without them our job wouldn't be possible," she says. "Everything we do is centered on having a good internet provider."
Moeller, a Dell Rapids native, began working in the Dell Rapid Carnegie Library 14 years ago, taking the helm 10 years ago as director. She has a deep love for her community and the library that serves it.
Community outreach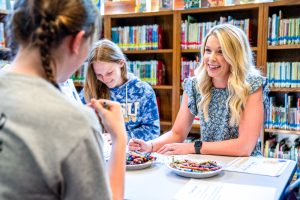 Like most traditional libraries, Dell Rapids offers the usual hard copy books, digital books, newspapers, and movies, but it also offers the community much more. In addition to story time programs for younger kids, the library has teen programs and adult activities such as classes. The library does its share of community outreach to daycares and classrooms.
It also has a maker space where patrons have their choice of an art station, a station focusing on building projects and a STEM station with projects focusing on science, technology, engineering, and math.
Moeller says the library staff is also always available to help patrons with other projects, including things like creating resumes, writing cover letters, and even setting up email accounts.
"Not only do we use the internet every day for the basic parts of our job, but it drives a lot of our programs and our ability to help people," she says. "Without it we wouldn't be able to do a lot of the cool things we do."
Learn, explore, play
What people often don't realize is that libraries have become a centralized place for community members to meet, especially in smaller communities like Dell Rapids. "Really, we have changed and evolved so much. We really are a community hub," says Moeller. "The whole purpose is to gather together to learn, to explore, to play."
And like all libraries, Dell Rapid Carnegie Library offers its services free of charge. "Anything you get from here is always free," she says. "Which really solidifies that sense of community."
And that sense of community is what makes the Dell Rapid Carnegie Library the special place it is, Moeller says.