Curiosity, Consistency, and Community Prove a Successful Formula for Coffee Shop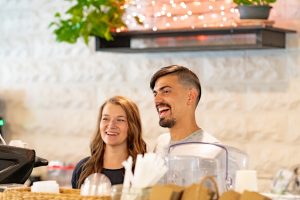 When Aaron and Amie Delgado rolled into Dell Rapids and opened a coffee shop, they turned a few heads.
"We had these big, long dreadlocks," Aaron recalls. "But we were welcomed. People came in just to meet us and see what we were all about."
The initial curiosity wore off, but customers continued to flock to LaDelle & Fourth for coffee, treats, and camaraderie. Today, the Delgados can't imagine living anywhere else. Dell Rapids is home.
A Change in Retirement Plans
Aaron and Amie didn't plan on opening a coffee shop. At least not initially, though it was always in the back of their minds.
"You don't set out thinking, when I grow up, I want to open a coffee shop!" Aaron explains. "We thought it would be a great opportunity when we retired."
The key word is "opportunity." When it came knocking, the Delgados couldn't resist. Soon after arriving in Dell Rapids, Amie stopped by Unique Boutique & Bistro. The owner introduced herself and asked if Amie was interested in purchasing a coffee shop.
"When Amie came home, she told me about it and we had a good laugh," recalls Aaron. "She walked back in a week later and the owner said, 'no, really, do you want to buy a coffee shop?'"
Realizing it wasn't a joke after all got the Delgados thinking.
"We started looking at our financial situation and asking all the questions anybody would in that situation," Aaron says. "Could we afford this type of business venture? Is this what we're supposed to be here for? Are we prepared and capable? Neither of us has a business degree, but we just decided to go for it."
Their gamble paid off. They opened on February 15, 2016, and right from the start, people supported LaDelle & Fourth. That's one of the biggest benefits of operating a business in a small community, according to Aaron.
"The relationships you develop are huge," he says. "They've been a lot of fun to create and build. About 70% or more of our customers are regulars. We get a lot of carryover from the quilt shop across the street. You have these people that travel to Sioux Falls and kind of bounce around the area just to see what's out there."
A Sense of Community … and Lots of Trees
Amie and Aaron are both originally from Huron. They moved to Wisconsin when Amie went to college and spent some time in North Carolina afterward, but the lure of home was strong. They returned to South Dakota to be closer to family. Deciding where to live took some serious thought.
"We didn't want to be in Sioux Falls, but wanted to be decently close," Aaron says. "We found Dell Rapids and it's just been wonderful."
With five children of their own, the Delgados appreciate the safety and sense of community Dell Rapids offers. There are other factors that drew them to town, as well. Like topography.
"It's nestled along the river and has those rolling hills," Aaron shares. "It's not just a flat plain. You can drive just outside of town and get that classic South Dakota sunset."
He points to other intangibles, too.
"They take care of this town. You look around and everything is well-kept. They light everything really well; they clean the streets. And you have all these trees."
'Small Businesses Help One Another Grow'
The Delgados are humbled by their success. They worked hard to create an inviting space through distinct lighting, a hand-painted mural, and comfortable seating. The warm atmosphere draws people in — as does the menu, which features everything from lattes and mochas to breakfast burritos, bagel sandwiches, and paninis — but more than anything else, Aaron believes it all boils down to familiarity.
"People like consistency," he explains. "That's a great ode to how coffee functions. It's part of a routine. I wake up, I drink that hot beverage, I'm ready for my day. I'm charged."
Aaron also says people need to be connected. LaDelle & Fourth helps forge those connections, as does Golden West.
"Golden West has been really good to us," he says. "Every time I've called, they've responded immediately. It's nice to know that you can rely on a company to help you. That's what small businesses do for one another: we're here to help one another grow, and they have been really good at taking care of everything for us. The support and responsiveness of Golden West has really helped me do my job as a business owner."
Without a doubt, Amie and Aaron are enjoying their success and plan on being an integral part of their community for many years to come. It looks like they will have to come up with new retirement plans now.
Check out our Meet the Owners Video with Aaron & Amie Delgado of Ladelle & Fourth Coffeehouse in Dell Rapids: