Custer Camp Resort is Straight Out of the Stone Age
Custer campground sits on a prehistoric site once populated by cavemen and dinosaurs. Today, you'll find everything from traditional RV and tent sites to teepees and treehouses.  
High-speed internet and other modern trappings ensure you won't be roughing it at Buffalo Ridge Camp Resort … but you're guaranteed a comfortable stay in a beautiful setting.
A Page Right Out of History
For decades, Flintstones Bedrock City was a popular draw for families in the Black Hills. The 62-acre theme park and campground that paid homage to The Flintstones television series opened in 1966, but in 2015 it was yabba-dabba-done.
Bedrock City Hall, Mount Rockmore, and the Water Buffalo Lodge may be no more than a page right out of history now, but the campground has been reborn as a new upscale site. And guests will still find traces of the iconic attraction.
Buffalo Ridge Camp Resort opened in 2018 after the former theme park was demolished. From the start, the property — owned by Custer Hospitality — was designed to provide a more upscale experience for guests while preserving some of the site's storied history.
"We are a luxury resort that offers modern amenities for all our campers," explains Jessica Noteboom, marketing director for Custer Hospitality. "We have accommodations to fit any traveler's needs."

A Wide Range of Modern Amenities
Guests will find familiar sights like the original Flintstones playground, the Western town façade, and a purple Dino statue tucked among the trees. One day, they hope to restore the train — a popular family feature during the theme park's heyday — and offer rides. 
Modern accommodations include RV and tent sites, deluxe cabins, teepees, and canvas "glamping" tents. The latter offer luxuries such as plush white linens, custom furniture and artwork, propane fireplaces, and heating and air-conditioning. But it's the newest offering that has Jessica particularly excited.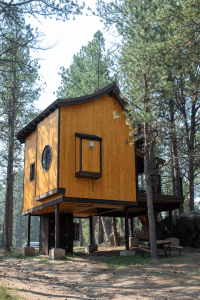 "We have four brand new treehouses that are all uniquely designed and styled," Jessica says. "They have a whimsical take on each theme. " 
Guests can choose to stay in treehouses modeled after a castle, a birdhouse, and a miner's den. Or they can seek tranquility and relaxation in the holistic-themed Serenity.  
Resort amenities include family and adults-only swimming pools, a hot tub, general store, outdoor concessions and bar, laundry facilities, and private shower rooms. Complimentary Wi-Fi is available to everybody, regardless of where they are staying in the campground.  
"Even if you're staying in a tent for $30 a night," Jessica says, "You can sit there with your laptop, watch a movie, and enjoy amazing views!" 

Fiber Optics, Travel Demand Benefit Resort
When the pandemic struck in 2020, Buffalo Ridge Camp Resort initially paused all marketing campaigns. After implementing safety protocols and changing their messaging, the resort saw a huge increase in business as people looked for safer alternatives to their traditional activities. The resort's wide-open spaces and individual sites provided guests with peace of mind and bookings shot up.  
"Consumer preferences have shifted drastically," Jessica says. "More and more people turned to camping, where they had wide open spaces. We saw a huge influx of people who had never camped before. They took their family out, maybe rented or purchased an RV, and came out to the resort." 
Jessica says the fiber optic connections Golden West brought to Custer, and the resort itself, have been a contributing factor to the high numbers of visitors.  
"Fiber optics have been a drastic change for us and make our guests' stays awesome because they have access to stream and, especially last year, to work remotely," she recounts. "And we saw a lot of kids shifting from the classroom to remote learning. We got a lot of messages through our website and Facebook asking if we had strong Wi-Fi, and I'm like, 'Yes we do!'" 
That pent-up travel demand has carried over into 2021. All those visitors, coupled with labor shortages, have kept staff busy.  
"It's been an all-hands-on-deck mentality around here," Jessica says. "Everybody pitched in and covered shifts. Even our COO was cleaning rooms and helping with the front desk!"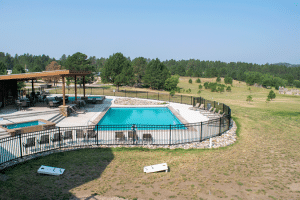 Buffalo Ridge Camp Resort is open from Memorial Day to October 14. With the so-called "shoulder season" lasting a little bit longer these days, they would eventually like to open earlier — especially since cabins, glamping tents, and treehouses have electric heat and/or fireplaces.  
In the meantime, they'll keep looking at ways to refine and develop the property. The possibilities, according to Jessica, are endless. 
"No rock is left unturned!" she says.