From Corner Lot to Community Cornerstone
Brothers Build Auto Business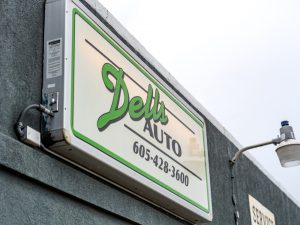 Brothers Bob and Rick Zwart started small and took several steps over the last two decades to grow their auto sales business in their hometown of Dell Rapids.
The duo enjoyed buying cars, fixing them up, and selling or trading them while in high school, a practice Bob refers to as "jockeying cars." Then in the fall of 1999, they purchased a corner lot along SD Hwy. 115, a main thoroughfare in Dell Rapids – and the rest as they say is history.
From 5 cars to 120 today
Dells Auto opened in November 1999 with Bob responsible for sales and Rick focusing on service. Twenty-three years later, their auto sales business that began with five to seven used cars on the lot, now features $2.5 million in inventory with an average of 120 cars for buyers to choose from.
"It's been a good living, and it's been fun to grow like this in a great community," says Bob of Dell Rapids. "We have great schools and churches, and the town is growing to the north, right near our business location."
Bob admits he and his brother never imagined Dells Auto would become what it is today. "We had our boots on the ground every day, and it just happens," he shares.
To aid their growth, he says, "We kept investing in ourselves." They bought adjacent properties near their initial corner lot, which provided more space for inventory, and they have expanded their staff to 11 employees.
Customer Service & Connectedness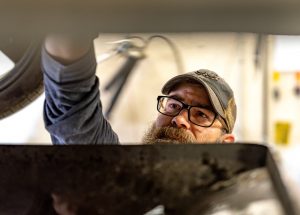 A focus on customer service has also been key to Dells Auto. He attributes their customer care to earning many repeat customers over the past two decades.
"We stand behind the cars we sell," says Bob. "In this business, if something breaks, you've got to be there for your customer."
Additionally, the telecommunications provided by Golden West has been paramount for Dells Auto to get their car offering seen beyond the estimated 4,000 residents of Dell Rapids.
"Without the internet, we wouldn't be able to sell cars," Bob notes. "With the internet, about 80% of our clientele comes to Dells Auto from the Sioux Falls area."
Dell Rapids is just 20 minutes north of Sioux Falls via SD Hwy 115. The Dells Auto website and social media pages publicize their auto inventory to prospective buyers from the surrounding region.
Advancements in internet functionality also allow Dells Auto to use the web for finding and buying inventory. They can analyze demographic data for business decision-making, as well.
Looking ahead, the brothers are enthusiastic about seeing Dells Auto flourish in its third decade. "We'll continue to take care of our customers, and we'll continue to adapt," Bob concludes.
Check out our Meet the Owners Video with Bob Zwart of Dells Auto: