Bowling, Burgers, and Business of the Year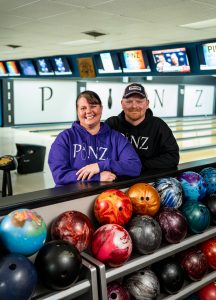 Steph Schmidt wasn't a bowler, but thanks to life's twists and turns, the Dell Rapids resident now owns Pinz LLC. Under her family's guidance, the bowling alley/restaurant/arcade has become a popular local hotspot and community Business of the Year. 
Steph was an administrative assistant for Minnehaha Community Water Corporation and husband, Jordan had a construction job with a Sioux Falls company. Together, they were raising daughters Kailyn, Kylie, and Korbyn. It was a perfectly normal life, Steph says, until fate intervened. Her dad lost his life in a tragic accident and her mom was diagnosed with cancer; recognizing the fragility of life, she was ready to make a change.  
"I said to Jordan, 'There is more to life than this. We should buy the bowling alley!' He thought I was absolutely crazy," she says.  
Happy Memories Inspire New Direction 
Steph's desire to run a bowling alley stemmed from growing up in a small Iowa town. 
"My childhood memories always included having fun at the local bowling alley," she says. "The one in Dell Rapids was open pseudo-seasonally and had irregular hours. I just thought, this community needs something for families to do, so we decided to take the plunge and buy the bowling alley." 
They opened Pinz in October 2019 and quickly discovered being your own boss is contagious. "When you own a business, it's really hard to clock in and out for somebody else," Steph says. Inspired by their newfound independence, Jordan started his own construction company, JCS Handyman & Small Construction, in April 2020. The Dell Rapids native focuses on small construction projects in and around town.  
Six months after opening, Pinz was forced to close due to COVID-19. The setback allowed them to focus on renovations; they added freezers and coolers; built a dish room for cleaning and sanitizing dishes, flatware, and utensils; and created an area for customers to sit and watch the bowlers. After expanding the menu and adding breakfast and lunch options, the food portion of their business took off. Today, it accounts for about 70% of their revenue … thanks in large part to Steph's commitment to quality.   
"I wanted a nice, big, juicy cheeseburger on the menu," she says. "We taste-tested eight or nine before I found one I liked. It's a great, big half-pound burger. You'll definitely get your cheeseburger fix here."  
All that testing paid off when Pinz took first place in the Dell Rapids Chamber of Commerce's inaugural burger competition in 2020.  
Family Owned and Family Operated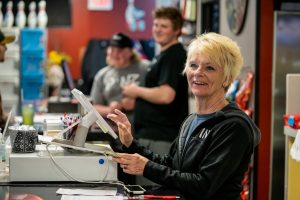 One of Steph's biggest sources of pride is the fact that Pinz isn't just family owned — it's also family operated. Her daughters and Jordan's mom and sister help the couple run the business.  
"When you come into the bowling alley, you're going to see someone within the Schmidt family working there," she says.  
Pinz currently employs 19 others, primarily teenagers. Steph goes out of her way to ensure they have a positive working experience by catering to their interests, whether that involves mechanical work or waiting on customers. 
"We try to find each kid's knack and teach them it's okay to not be able to do everything," she says. "It's awesome to see the kids grow and open up. We treat them like they're our family."  
Steph has embraced the community wholeheartedly and is fully committed to its success.  
"The people in Dell Rapids rise together and can overcome anything," she says. "We have a genuine love for each other and the community." 
Keeping it Local 
Getting people to stay in town instead of driving to Sioux Falls for entertainment can be a challenge, but Pinz provides a strong incentive by offering families a place to go throughout the year, regardless of the weather. Their effort is paying off; when the Schmidts began pushing youth bowling leagues after taking over, enrollment jumped from 12 kids in 2019 to 32 the following year. They plan to add a second league in 2021 to help meet demand. Bowling isn't the only draw; Pinz also offers arcade games, darts, and a full cocktail menu, in addition to those award-winning burgers and other food.  
After a year and a half in business, despite the ups and downs, Steph has no regrets about following her dream.  
"I'm glad we did it," she says. "I feel like I'm making a difference in a small town, providing a service to people — and they like it." 
In 2020, the Chamber of Commerce voted Pinz Business of the Year. It's validation that the people in Dell Rapids are just as happy to have the Schmidts in town as they are to be there.  
Check out our Meet the Owners Video with Steph & Jordan Schmidt of Pinz LLC in Dell Rapids: