Born to Inspire
Mission Teenager is a Role Model
Tashina Red Hawk has achieved more at the age of 18 than many people do in a lifetime. If you ask the Mission teenager how she's accomplished so much, she'll talk about hard work, determination, and a genuine desire to be a role model for Lakota youth. But it really boils down to a positive attitude.
"Don't tell me the sky's the limit when there are footprints on the moon," she says.
At the rate Tashina is going, she just might slip the surly bonds of earth before she's even graduated from high school.
"If there were more Tashina Red Hawks, we would have a better nation."

Dusty Johnson
SD Congressman
Youth in Action Award During National 4-H Week in October, Tashina was named the 2022 recipient of the 4-H Youth in Action Award for agriculture. She's the first South Dakotan to receive the national honor and finds herself in rare company. Each year, the organization honors young leaders who have made positive contributions to their communities in four key pillars: agriculture, civic engagement, healthy living, and STEM.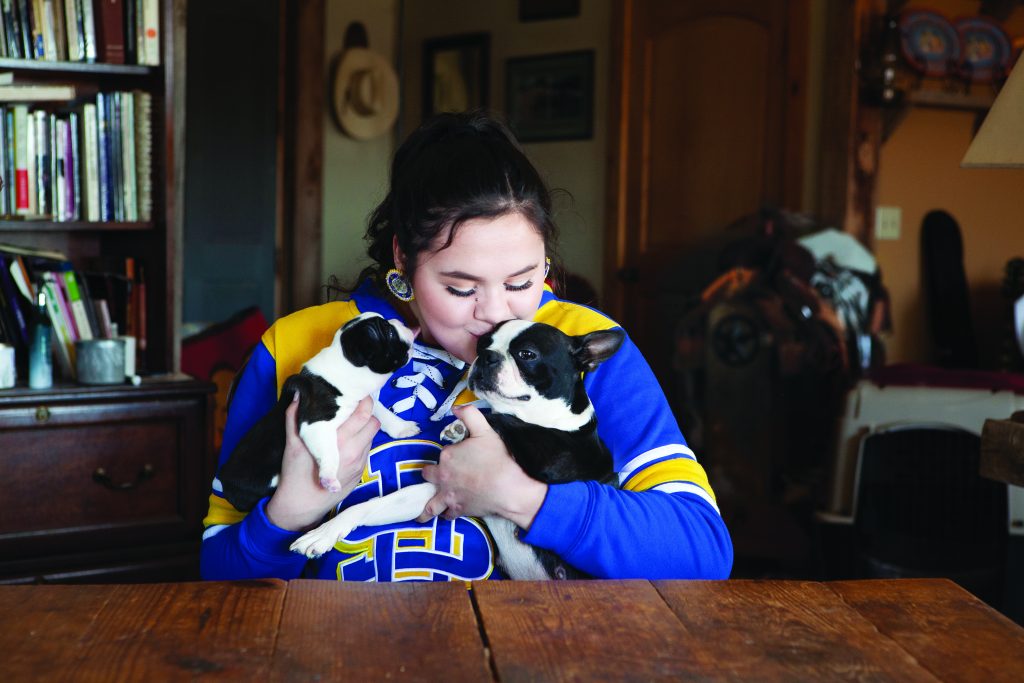 The award includes a $5,000 scholarship, an all-expenses-paid trip to Washington, D.C., and recognition as the official 4-H youth spokesperson for the agriculture pillar. As much as she appreciates the scholarship money and accolades, Tashina is happiest for the acknowledgment it brings to the state.
"When I heard, my heart burst because of what it means for South Dakota," she says." Coming from South Dakota, where agriculture is everything, I was very proud."
A Background in 4-H
In retrospect, Tashina's award is hardly surprising given the effort she has put into 4-H. Her dad, Shane, had raised and trained horses all his life, setting the stage for what was to come.
"I had my first horse before I was even born," Tashina says. "I had a passion for riding horses and had all these amazing dreams of becoming a barrel racer."
Shane broke his back when Tashina was eight and was unable to train her. Kassandra Chauncey, a 4-H Junior Division member, stepped into the role. When Kassandra's horse suffered an injury the day before a Todd County 4-H horse show competition, Kassandra asked if she could borrow Tashina's horse. She agreed, and Kassandra went on to win a blue ribbon in barrel racing.
"From that day forward, Kassandra became a 4-H mentor to me," Tashina says. "That's when I hopped into 4-H and got into agriculture. I've been with it ever since."
Inspired by Lakota Traditions
The Youth in Action award might be a crowning achievement for most, but it's just another in a long string of accomplishments for Tashina. She was born in Portland, Oregon, but her parents decided to raise her on the Rosebud reservation in South Dakota. Her Sicangu Lakota heritage plays a big role in everything she does.
"My Lakota traditions are very important to me," she explains. "Animals are a huge part of our teachings. The creation story of the Great Race revolves around animals.
They have been with us since the beginning of time and are a huge part of our everyday life. They're like family members. We give our horses Lakota names because we cherish them and carry them close to our hearts."
Her love for animals has inspired Tashina to set her sights on a veterinarian career. She has volunteered at the Wamakanskan Wawokiye Oti ("Helping Animal Center"), a veterinary clinic in Mission, for the past three years. Working with doctors from the Sovereign Nations veterinary program has provided her with valuable hands-on experience.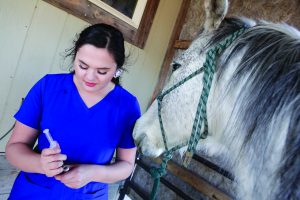 "I've climbed the ladder, going from a vet tech helping with paperwork to performing my first small animal surgery," Tashina says.
Tashina has been taking dual credit college courses at Black Hills State University, South Dakota State University, and Sinte Gleska University and will graduate from high school with 32 college credits earned. She has been completing her Pre-Veterinary Program Academic Syllabus at the SDSU Department of Veterinary and Biomedical Sciences, where she plans to apply for the professional Veterinary Medicine (DVM) 2+2 program in the spring of 2023.
"Don't tell me the sky's the limit when there are footprints on the moon."

Tashina Red Hawk
Coffee Shop Brings College Savings
As if those accomplishments weren't enough, Tashina plays 12 different musical instruments, mentors Lakota youth, is
the reigning South Dakota High School Rodeo Queen for two years running, and owns and operates her own business, Tashina's Coffee. The drive-through coffee shop sells every-thing from lattes and mochas to bubble tea. The income she earns from coffee sales will go toward her college expenses.
"It's a really fun business," Tashina says. "I love doing public relations, talking to people. I love the smell and taste of espresso."
The business has even taught her a surprising lesson.
"Believe it or not, even in three-degree weather, people still order iced drinks," she shares.
Tashina's impressive list of achievements make her a role model for many. She even caught the attention of South Dakota congressman Dusty Johnson, who touted her accomplishments on the U.S. House floor last Oct. 11 — Native American Day.
"If there were more Tashina Red Hawks," Johnson said, "we would have a better nation."