Be it Ever So Humble,
There's No Place Like Gnome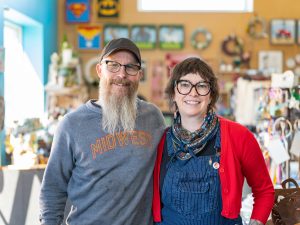 The beige corrugated metal building located off South Dakota Highway 38 on the north side of Hartford looks unassuming at first. Until you spot the unmistakable orange silhouette of a gnome mounted across one side, peering vacantly over the gravel parking lot.
Owner Stacy Wengler admits even long-time Hartford residents are often surprised to find an oversized mythological creature in their midst.
"At least once a week someone from Hartford comes in and is like, 'I didn't know this was here,'" Stacy says. "Everybody is kind of surprised when they come in. The outside of the building isn't cute, but the inside is."
Gift Shop Sells Handcrafted Goods Made Locally
"Somehow, they've figured us out," Stacy remarks. "I think it's the big gnome when they're driving by."
The newest weapon in their arsenal is a state-of-the-art Epilog laser engraver. The machine allows the Wenglers to customize personalized gifts and corporate awards — everything from pens and keychains to drinkware and cutting boards. They can also custom engrave and cut products and signage made from acrylic, wood, leather, and other materials.
The Wenglers started Knotty Gnome in 2017. The store is actually a spin-off of their other business; Beaverbuilt, Inc., a metal fabrication shop, located right next door. It's a symbiotic relationship: they use steel from Beaverbuilt to make the butterflies, flowers, and other lawn décor popular with Knotty Gnome customers.
"It's a cool mix," Stacy declares. "We utilize our skills and steel from Beaverbuilt to help Knotty Gnome run."
Roll-Off Containers Prove Lucrative
Stacy's dad opened Beaverbuilt in 1995 and quickly found a niche market in roll-off containers. Some people refer to them as dumpsters, but Stacy says that's a misnomer.
"If you're a garbage snob, dumpsters are the little ones that trucks pick up and flip," she explains. "We build the big roll-off containers you see at construction sites, or if you're going to re-roof your house. They roll in the container, you fill it up, and then a truck hauls it away."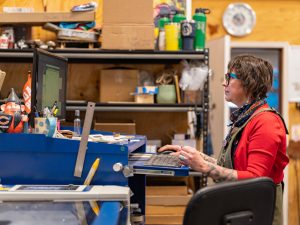 It's a lucrative business that Beaverbuilt stumbled upon unexpectedly. Soon after the shop opened, Boltes Sanitation in Sioux Falls asked if they could build them a roll-off container. They obliged and made an important discovery in the process.
"We came to find out that not many people make roll-off containers," Stacy says. "It became our primary business real quick."
This was pre-internet, so their marketing strategy involved scouring regional phone books for roll-off services and mailing out flyers. Today, the company sells hundreds of roll-off containers a year. Most customers are based in the Midwest because of the high shipping costs involved, but they have sold containers to businesses in Hawaii and New York.
Stacy and Kyle bought Beaverbuilt from her dad following his retirement in 2021, though he still helps with certain jobs. It's been a true family business: Stacy's brothers and sister all worked alongside their father over the years.  Stacy's daughter, Bryghton, and Kyle's son Kamden have also pitched in at Knotty Gnome.
Close-Knit Community Offers Everything
Stacy and Kyle can't imagine a better community than Hartford in which to operate two businesses.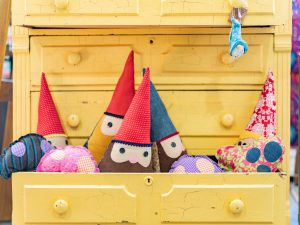 "I love Hartford," Stacy says. "My favorite thing about it is, everything you need is in Hartford. We go to the doctor, the dentist, the grocery store. We use the building center. The community is so close, we can't go to any of those places without chatting about the weather or the stores."
Stacy's involvement in the Chamber of Commerce provides interaction with other small businesses like theirs.
"The business community is great," she says. "The owners are all from Hartford, so they're like us. They all have the same intention, which is to support our families and our schools and our community."
The Wenglers also find support from Golden West.
"All the services Golden West provides keep us running," Stacy says. "Obviously, we can't do business without the internet and phones. We're always connected, and I know that my customers are going to be able to reach me."
Future Plans Include Community Engagement
The Wenglers' plans are straightforward. There isn't much room left to grow physically at their current location, so they'll focus on running both businesses more efficiently and remaining engaged with the community.
Stacy admits it's hard to know for sure what Knotty Gnome will end up selling in the future, given how the product mix has evolved over the past five years. Already, the laser engraver has opened new business possibilities. Much of their lineup will depend on customer demand.
It's much easier to gaze into that crystal ball when it comes to Beaverbuilt. Roll-off containers have been their bread and butter for over a quarter-century, and Stacy doesn't see that changing any time soon.
"I don't foresee that business going away," she says. "There's always garbage!"
Check out our Meet the Owners Video with Stacy & Kyle Wengler in Hartford: