5 Generations of Family Build Future on Bank's 117-Year History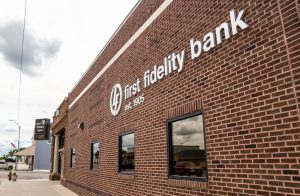 According to the U.S. Bureau of Labor Statistics, only about one in three companies stay in business 10 years and just one of every five make it 20 years. Further, it's estimated only about one of every 200 companies have what it takes to reach centennial status.
Those statistics illustrate the significance of First Fidelity Bank, headquartered in Burke, being well on its way to a second century in business. Established in 1905 and originally called the Burke State Bank, the family-owned bank has a 117-year history to its credit.
In that time, the bank has grown to include offices in six additional South Dakota communities. Even more remarkably, direct descendants of bank co-founder Lowell S. Lillibridge remain involved with management and operations of First Fidelity Bank today.
Kenzy Family Remains at Helm
George Kenzy and his wife Laurie, whose great-grandfather was Lowell S. Lillibridge, are the fourth generation at First Fidelity Bank. Lowell S. Lillibridge's son Louis and grandsons, John and Tom, all served as presidents of the bank. George and Laurie's daughters and sons-in-law – Kelsea and Billie Sutton and Katelyn and Alec Brady – all have roles within the bank and represent the fifth generation. The Kenzy's youngest daughter Chloe Kocer owns and operates Burke's community newspaper The Burke Gazette.
"We've been conservative managers of the business," George explains as one of the keys to the bank's long-standing history.
George, who was raised on a cattle ranch, recalls joining First Fidelity Bank in November 1984. He says that was a difficult time for agriculture with high inflation and high interest rates, which parallels today's ag economy. He began as a bank teller, and over the past four decades had roles with insurance, loans, acquisitions, human resources, and eventually senior management. George served as president and CEO of First Fidelity Bank from 2001 through November 2019. He remains board chairman today.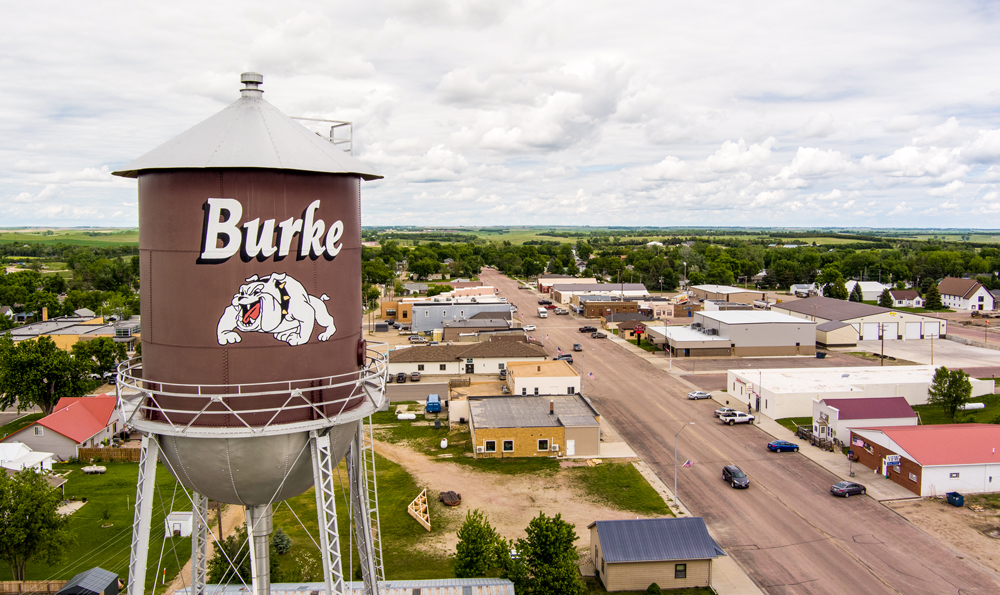 First Fidelity Serves Ag Economy
George notes 75% to 80% of First Fidelity Bank customers operate within the agriculture sector. He says this also affects business on Main Street and throughout the community. "So really we're 100% agriculture," he acknowledges.
In serving all of the banks' customers, George says that First Fidelity Bank has always strived to keep interest rates low and recognizes the importance of mutual, loyal relationships.
"We've had good customers that have stuck with us, and we stuck with them," he says. "We reinvest our depositors' money right back into the communities through loans – whatever we can do to help keep our Main Street way of life."
Long-Term Coworkers Also Serve Communities
George and his daughters also attribute the bank's success to great coworkers. It's bank tradition to give a gold watch to coworkers who work for the bank for 25 years. George proudly shares that during his tenure the bank has awarded over 40 of those watches. He takes pride in the involvement bank employees have within Burke, Colome, Winner or the other four communities the bank serves, as well.
"We've had good longevity on coworkers," he shares. "We want them to represent the bank and help out the community," and many serve in roles with the fire department, city council, the school board, and other activities.
Customer Relationships Are Also Key
Katelyn also emphasizes their focus on building close relationships. She points out that good employees take good care of customers, which fosters relationships where families do business from one generation to the next. "Our tagline is 'first class banking on a first name basis,'" she explains.
To offer that "first class" service, First Fidelity Bank has transitioned with the changes in society. This includes online and mobile banking services, including an app. Katelyn notes that this has been important for customer retention, especially among youth going off to college or moving to another community for employment.
"They can easily continue to bank with us. You can deposit your checks and view your accounts easily," Katelyn says.
Fiber Optics Connect Banks & Customers
The trio notes that Golden West has been key to developing their online banking services as well as enhancing communication among their seven bank locations. George reflects on the transitions from stand-alone computers connecting to the internet, to a mainframe, and eventually to today's high-speed fiber optics network.
"We've finally got enough room in those lines to transport all our data. It just keeps growing and growing," he says.
He adds, "We couldn't operate today without these fast connections. We're in real time. You use your debit card, and it's back to your account as you're signing the piece of paper."
With the first telephone wire strung from fenceposts in 1916, Golden West is just a little younger than First Fidelity Bank. Both businesses are looking toward their next century serving rural South Dakotans.
Kelsea Sutton says that like Golden West, First Fidelity will continue to be "progressive for the times." The bank's focus on community and customers throughout its first century will continue into the second.
"I think for the most part that dedication to community comes through to people in a way that breeds a lot of loyalty both internally with co-workers and externally with customers," Kelsea says.