Once the largest retailer in America, Sears, Roebuck and Co. sold an eclectic mix including appliances, clothing, and power tools. A century ago, you could even buy a kit house — complete with mortgage — through their catalog. One such home on the plains of western South Dakota has been visited by guests from across the globe for 25 years.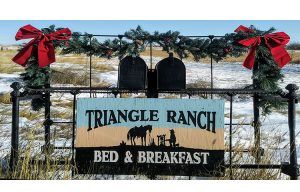 Lyndy Ireland and her family have operated the Triangle Ranch Bed and Breakfast in Philip since 1996. The house, listed on the State and National Registers of Historic Places, was purchased and assembled by her great-grandparents in 1923. 
Kit Homes Were a Popular Alternative

The Irelands didn't set out to run a bed and breakfast. Lyndy and husband Kenny moved to her family's Triangle Ranch property in 1974 and made a go at ranching. To supplement their income, Lyndy spent time as an activity coordinator at a nursing home and managed the Western boot department at Wall Drug Store.  Both experiences were positive, but ultimately, Lyndy wanted to be her own boss.
"God didn't cut me out to punch a time clock," she says. "I've always worked, and I enjoy people a lot."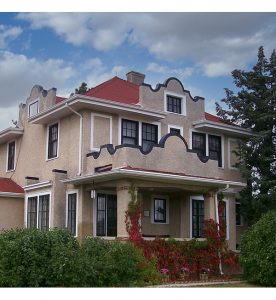 Opening their distinctive home to the public and turning it into a bed and breakfast was a friend's idea, but one that appealed to the Irelands.  
"I had a very people-person husband taking care of the ranch by himself and this old house is fairly unique," Lyndy recalls. "It's always been lived in by all the generations of my family. It needed some work, but mostly, it needed to be shared."  
The home is a 1917 Alhambra model that Lyndy's great-grandparents, H.H. and Grace Williams, bought from a catalog. Companies such as Montgomery Ward and Aladdin began selling kit homes in the early 20th century, but Lyndy says Sears did it best. 
"This is not what you'd think of as a little fishing shack," she says. "It's a very nice home."
Sears sold around 100,000 homes all over the United States and would even carry the mortgage. H.H. and Grace didn't want to be saddled with debt, so they paid cash for the house. This turned out to be a smart decision. 
"They saved their alfalfa seed money for three years to pay for it outright," Lyndy says. "This was fortunate because that was pre-Great Depression. If you'd been making mortgage payments during that time, it would not have been good." 
The house was boxed up in two railroad cars that contained everything needed to build it — including classy touches like crystal chandeliers and a claw-foot bathtub — and transported across the Great Plains. 
 Historic Designation Paves Way for Renovations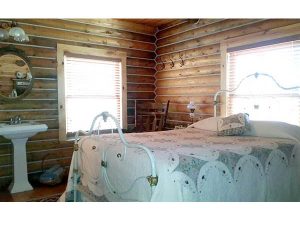 Renovating the house was no small task. Seventy-plus years on the South Dakota prairie had taken a toll, and the ranch's isolation didn't help. Even though the kit included wiring and plumbing, in 1923 there was no source for electricity and no way to pump running water, so the pipes and wiring sat unused for almost 30 years. In addition to repairing the roof and windows and adding private bathrooms, everything needed to be brought up to code. But the State Historic Preservation Office deemed the home of historic significance and placed it on the National Register of Historic Places, a designation that entitled the Irelands to low-interest, long-term loans. It also meant keeping the architectural features intact, which proved tricky at times. 
"Our electrician said there were several times he needed a counselor before he got done," Lyndy says. 
Despite the challenges, the Irelands pressed on. The Triangle Ranch Bed & Breakfast officially opened for business on Memorial Day, 1996. A quarter century later, they have hosted guests from every continent, and two-thirds are repeat visitors. Their reasons for visiting — and returning — boil down to a few simple things. 
"Almost to a person, they are blown away by how friendly South Dakota is," Lyndy remarks. "Then there are the wide-open spaces. It's almost like they can't grasp having 360 degrees of sky, and how beautiful and peaceful it is. I like for people to take home the feeling that somewhere there's still that natural peacefulness." 
People Keep the Family Going 
Lyndy attributes the B&B's success to two factors. 
"Ignorance and tenaciousness," she says with a laugh. "It's the people that kept us going. There's so many good people out there, it's restored my faith in humanity." 
Golden West also plays a role in the Triangle Ranch's daily operations, albeit a behind-the-scenes one. The Irelands invested in a website early on, before it was common practice, and credit their online presence as key in attracting most visitors.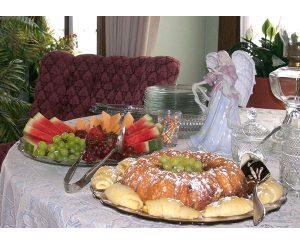 "Golden West takes care of all our internet needs and our Wi-Fi," Lyndy says. "Our guests are shocked when they see these little orange markers out. Here we are with fiber optic lines, and they'll say, 'We live on the edge of Cleveland and we don't even have fiber!'" 
Sadly, Kenny Ireland passed away on Oct. 2. Lyndy is still adjusting to his absence but has plenty of help from her children and grandchildren. 
"Our family is all very much in solidarity and has been taking part in carrying on here," she says. "They are not onsite, but they live close by. They're my weekend warriors. They're going to carry on!"