Wall Business Helps Meat Demand
When the meat packing industry scaled back operations following high-profile COVID outbreaks, Ken Charfauros and Janet Niehaus shuffled their plans to help ease demand.
The owners of Wall Meats were preparing for the upcoming 2020 tourist season by stockpiling meat when the pandemic hit. With plenty of beef and pork — and a mobile food trailer sitting idle — they decided to hit the road and bring meat to the masses.
West River Residents Line Up
Wall Meats' involvement in keeping West River residents fed began with a phone call.
"Elevate Rapid City reached out to us to see if we could provide protein," Ken recalls. "We had a food trailer we weren't using because restaurants were closed. So, we loaded up the meat truck and took it to Rapid City."
The trailer was a hit, as evidenced by the long lines of people eager to stock up on protein. Ken and Janet made frequent deliveries to provide people with access to meat. They chose areas that could accommodate large crowds, accepted preorders, and delivered directly to vehicles when customers weren't comfortable getting out of their cars.
"Sometimes we were so busy we couldn't look up," Ken says. "People realized you can't depend on big packers because of how quickly they went down once the pandemic hit. We weren't in that situation."
Strong and reliable internet connections helped them keep their heads above water, whether they were in Wall or on the go.
"Golden West has been helpful and supportive of us all along," Ken says.
Keeping Customers and Employees Safe
From the beginning, they took steps to make sure customers felt safe. They practiced social distancing and masked up. Back at the meat plant in Wall, they were protective of their environment and limited who could come and go. People who were out sick couldn't come back to work without a doctor's note.
Due to these strict protocols, they never had to shut down operations. In fact, they kicked things into high gear, running three shifts just to keep up with demand. As a result, none of their 62 employees were laid off and nobody's hours were cut. Even those who normally worked at Red Rock Restaurant, another joint venture in Wall, were pressed into service at the plant. The whole experience taught them an important lesson.
"We learned how many hours of sleep we could do without!" Janet says.
Reshuffling Priorities
Ken and Janet had several big projects in the works when the pandemic hit. They were preparing to expand with a processing plant in New Underwood and a retail store in Rapid City. COVID-19 inspired them to reprioritize.
"Originally, we were going to do the meat plant first and then the retail store," Janet explains. "The pandemic flip-flopped those."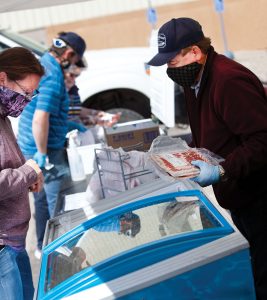 Not only did the business partners shift their plans based on demand; they also moved up their timeline.
"The pandemic accelerated what we were planning for the next two years into less than a year," Ken says. "It all fell into place but was not planned."
It would have been understandable if Wall Meats had raised their prices during the pandemic, but Ken and Janet were firmly opposed to profiting during a global emergency.
"We don't care about the competition raising their prices," Ken says. "We did not. It's the wrong time to do it in a crisis. We gained loyalty because of that. We just need to stay alive and sustainable and provide a work environment for our employees to feel comfortable. Staying within our profit margins is acceptable to us."
Wall Meats' commitment to helping the community isn't limited to the efforts they undertook during the pandemic. They have been supplying local beef to schoolchildren across South Dakota as part of the Beef to School program since 2019 and are currently serving 12 school districts. They also supply 90% of the meat for the West River Meals on Wheels program and regularly donate beef to the Club for Boys.
"It's not about the money, but serving the community," Ken says. "If Janet or I can contribute just a small amount, our future leaders are in that crowd. You help make a difference by giving here and there to different causes."
Expansion Back on Track
Their expansion plans are back on track, as well. As life returns to normal, they're focused on the plant in New Underwood. The $12 million project will result in a state-of-the-art facility complete with a processing plant, retail store, culinary kitchen, and learning center with an observation window. The latter will provide a place for new butchers to train and FFA students to learn about protein.
As exhausting as the past year and a half has been, Ken and Janet are thankful to have played a role in keeping South Dakotans' fridges and freezers full. They are looking forward to what the future holds, especially for the next generation.
"Our effort with less sleep is a good example that we need to teach and delegate," Ken says. "Competency and confidence, you have to train into people. Our effort to do that is more important than ever these days!"