Midland Plant Has 'Seedy' Reputation
Midland plant blends local seed for birds across the country.
You might consider bagging one million pounds of bird seed each week a tweet-worthy accomplishment, but it's simply business as usual for Performance Seed in Midland. The company went through 70 million pounds in 2021 alone, making a lot of sparrows, finches, and cardinals very happy — not to mention the local farmers they support.
"I pride myself on buying as much as I possibly can locally from the farmers around here," explains Plant Manager Melissa Fosheim. "We typically buy 90% of what we bag from farmers within about a 180-mile radius around us."
That commitment to reinvesting in the local economy certainly isn't ruffling any feathers in rural South Dakota.
Packaging & Treatment Innovations
Performance Seed got its start in Waite Park, Minnesota, selling lawn seed and wild bird seed, some 20 years ago. The family-owned company expanded to South Dakota, opening plants in Miller and Midland, the latter bringing in their first truckload of grain in February 2016.
While lawn seed is produced in Minnesota, both South Dakota facilities focus strictly on bird seed. They sell directly to stores, and create different blends based on the needs of those businesses.
"A lot of the companies we bag for have different specs and quantities as far as percentages they want in their mixture," Melissa shares. "We bag straight sunflower seeds, and we also make mixes that'll have wheat, sunflower, safflower, peanuts, milo, and millet."
A key selling point is Performance Seed's patented Grab & Pour Packages. The unique design makes it easy for the consumer to top off a bird feeder without spilling seed all over the ground.
"Our 20-lb. and smaller bags have a handle that makes it convenient to pour in a bird feeder or storage container," Melissa says. "People can pick them up and get them in their trunks."
Another innovation is the company's Moth-Guard treatment. The food-grade spray is applied to each bag of seed to inhibit the growth of moths and keep dust to a minimum and is completely safe.
Rail Cars Ease Transportation Crunch
When it comes to transportation, Performance Seed has a secret weapon: they own their own fleet of rail cars. This provides them with flexibility when it comes to shipping out bird seed.
"Trucking is very tough right now," Melissa says. "There are times when we'd have 40 loads of product on the floor and couldn't get a truck here to put it on. We can put four truckloads of product on a rail car and get it there in three weeks."
Tracks are conveniently located just outside the back loading bay. Once the cars are filled, they move them in position for the railroad to pick up. Performance Seed currently averages two rail shipments per week. Looking toward the future, she'd like to utilize rail cars even more.
"Right now, we ship all the way to California by truck, which is hard to afford sometimes," she says. "We hope to have more product going out on rail to reach those customers that are quite a ways away."
Supporting the Local Community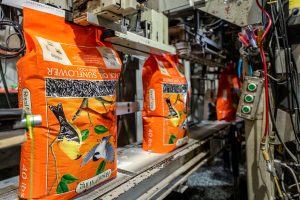 In addition to buying the majority of their grain from local suppliers, Performance Seed makes other efforts to support the community of Midland. They make financial donations to the local museum and occasionally donate bird seed to organizations holding benefits and fundraisers.
More than anything, Melissa views their employees as an essential means of giving back. They currently employ eight but would like to increase the staff to 12 in order to run split shifts in the future.
"We keep people employed and kept them busy during the pandemic," she explains. "Those people put money back into the gas station and other places in town."
Melissa is thankful for the service Golden West provides the company, including phone and internet service to communicate with the other plants, suppliers, and customers.
"You've got to have the internet, you know!" she says. "We've had some really good service guys from Golden West come down and take care of us, and that helps."
Melissa says drivers from out of the area often have to call for directions. "They've never been to little Midland, so they've got to be able to find where we're located!"
Out-of-state drivers might not know exactly where Performance Seed is located, but customers snatch up bags of bird seed from retail stores throughout the country.