Don't Make a Judgment Call — Dial 811 Before Digging Instead
Do you dig summer? The season offers plenty to love, from backyard barbecues to splashing in lakes. It's also prime time for tackling yard projects. If you take the word literally, call 811 before even picking up a shovel. It's the law … and your (and your neighbors') safety depends on it!
Whether you're planning a minor project like planting a shrub or something big like a swimming pool, call 811 before you break ground. Buried utility lines are an invisible safety hazard that could end up costing you money — or even your life.
Underground Utilities Are Everywhere
There's more to your yard than meets the eye. Underground utility lines are everywhere — some just a few inches below the surface. Nationwide, there are 20 million miles of buried utilities. The risk of hitting one is higher than you might think: according to the Common Ground Alliance, a utility line is damaged by digging every six minutes. This can lead to problems ranging from inconvenient to deadly.
"The main toll is economic, from cutting buried services," says Mary Poss, with the Golden West engineering department. "There's the cost to the area from losing services, plus the cost to repair."
Damages to underground utilities were estimated at $30 billion in 2019, the most recent year for which data is available. Homeowners who strike infrastructure on their property while digging can be held liable for repair costs, not to mention steep fines if they haven't notified 811 in advance.
But a hefty repair bill might be the least of their worries. The consequences can be far more serious than a gas leak or neighborhood blackout. Striking underground utilities while digging can lead to injury or death.
FCC Designates 811 a National Utility Hotline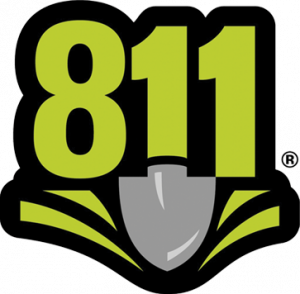 To improve safety, reduce damage to infrastructure, and consolidate the 71 regional "call before you dig" services scattered across the U.S. into one easy-to-remember universal number, the Federal Communications Commission (FCC) designated 811 as the national hotline for accessing local utility location services in 2005. Anybody planning to dig is required by law to call 811 or visit their state 811 center's website prior to digging to request the approximate location of buried utilities on their property be marked. This must be done regardless of the size and scope of the project.
Unfortunately, research conducted by the Common Ground Alliance shows that almost half of all homeowners planning excavation projects fail to call 811 first. Lack of awareness is an issue, though the numbers are trending higher. Often, they simply feel their project is small enough to not require a call. The most popular DIY projects that involve digging include:
Planting a tree or shrub
Building a fence
Building a patio or deck
Installing a mailbox
These all require a call to 811 first! And don't wait until the last minute. South Dakotans are required to contact 811 at least two business days prior to excavating. You can also visit sdonecall.com to submit an online request.
You'll be asked about the type of work being done, as well as the address and other identifying information, and will be issued a confirmation number. Next, 811 will notify your local utility companies, who will locate their underground utility lines and mark those with flags or paint. You must confirm that all utility companies have responded to the request after two business days have passed, or been given an "all clear," before you begin digging.
Red Means Stop, Green Means Stop
Once utility companies have visited your property, they'll mark the approximate location of any buried utilities using colored flags or paint. These colors correspond to the American Public Works Association (APWA) Uniform Color Code. Here's what they indicate:
White: Proposed excavation
Red: Electric power lines, cables, and conduit; lighting cables
Pink: Temporary survey markers and unidentified utilities
Yellow: Gas, oil, steam, petroleum, and other gaseous materials
Orange: Communication, alarm, or signal lines; cables or conduit; traffic loops
Blue: Potable water
Purple: Reclaimed water, irrigation, and slurry
Green: Sewers, drain lines
If you're tempted to remove these flags from your yard, don't! Doing so is illegal and makes you liable for any damage that occurs as a result. Those brightly colored flags might not smell as sweet as the flowers you're planning to grow, but they'll ensure your garden is planted in a safe spot … and you don't blow up the neighborhood!
Sources: Some information for this article was provided by online articles from SDOneCall.com, Call811.com, Black Hills Energy, CommonGroundAlliance.com, and UtilityLocator.com.