Schmeckfest Creates Its Own "Meals on Wheels"
When COVID-19 shut down in-person gatherings last spring, organizers of the annual Schmeckfest celebration took the show on the road — literally — with a drive-through event, which they have expanded upon for 2021.
"It's definitely a very specific German niche," shares Meranda VanNingen, development director for Freeman Academy and coordinator for the event. "Once people had a taste of it, they were pretty pleased we were going to have at least an online drive-through in 2021."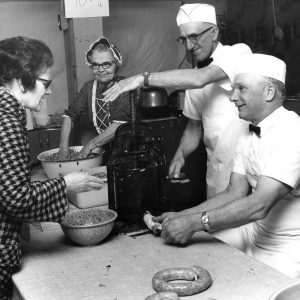 The event, which means "festival of tasting" in German, made its debut in 1959. A special meal consisting of traditional Mennonite dishes was planned to commemorate the 10th anniversary of the Freeman Junior College Women's Auxiliary. When over 1,000 people showed up — the ladies of the auxiliary had only anticipated around 200 — an annual celebration was born.
Festival of Tasting Grows in Popularity
The following year, a second day was added to Schmeckfest in order to satisfy demand. Attendance continued to climb every year, so in 1973, the event expanded to three days. Crowds continued to descend on Freeman every spring, so in 2005 organizers began holding Schmeckfest over two consecutive weekends in March or April. Today, the celebration attracts some 5,000 guests to the Freeman Academy campus. Though food is a highlight, the event has grown to include local crafts demonstrations, historical presentations, and a musical theater production. Money raised goes to Freeman Academy, a private school catering to children in grades Kindergarten through 12.
The centerpiece of Schmeckfest has always been the ethnic meal featuring cuisine from three factions of Mennonites who arrived in Freeman in the 1870s: the Low-German, Hutterish, and Swiss. Originally served family-style, the format was converted to a buffet in 2018. Popular dishes include noodle soup, stewed beef, bratwurst, cheese pockets, poppyseed rolls, and kuchen.
"Everything is made from scratch — family traditions that have been passed down through the years," Meranda says. "All these fabulous volunteers continue to make sure their items hold up to that Schmeckfest quality. It's exciting to see, year after year, these people coming in with their specialties."
Pandemic Inspires Creativity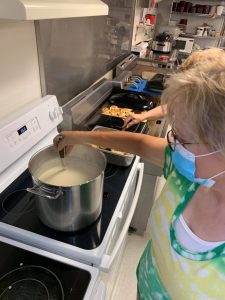 In March 2020, with preparations for the event well underway, organizers pulled the plug at almost literally the last minute.
"We were planning for a traditional event up until 10 days before the festival," Meranda recalls. "We had a lot of inventory!"
Rather than cancel Schmeckfest entirely for the first time in its 61-year history — a move that would have eliminated a key source of revenue for Freeman Academy — the Auxiliary Board was open to the idea of online orders. This allowed organizers to shift to a drive-through format. Despite occasional rain, the community response was overwhelmingly positive.
"It was open from 1:00 to 6:00 and we had a never-ending line of cars," Meranda recounts. "We stayed busy up until the last hour of each day. We thought people were going to grab one or two of each thing or have a specialty item they were interested in buying, but we had to get boxes to make sure the kuchens and other items weren't getting flattened in the shuffle!"
2021 Festival Adds Traditional Sausage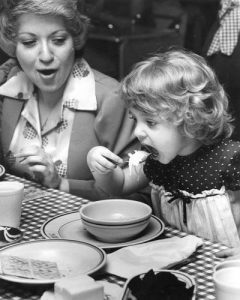 With the impacts of COVID-19 still being felt in early 2021, Schmeckfest organizers decided once again to hold a drive-through event to ensure public safety. The festival takes place on March 19-20 and 26-27 from 1 – 6 p.m. in the Freeman Academy parking lot. Orders must be placed online by the Thursday before pickup. Customers should bring along their confirmation email when they arrive at the drive-through to help staff deliver their orders quickly.
While there is no substitution for the traditional festival, guests have embraced the new concept. Organizers looked at what worked well last year and incorporated changes into this year's event. In 2020 online orders were limited to the Country Kitchen, but this year freshly prepared Schmeckfest sausage is also available for purchase online.
"We had such a good turnout last year," Meranda says. "People are able to place one order for everything, which we're hoping is going to streamline it even further."
Meranda credits the Schmeckfest group for keeping the event going even during COVID. "They have been doing this traditional Schmeckfest for so many years, for them to be willing to make this pivot so we can still get this out to the public has been a huge milestone," she says. "We hope we can keep that positive momentum going."
Photos Courtesy of the Schmeckfest Facebook Page