Regular, Unleaded, or Diesel?
All That and a Bag of Chips!  
T&C Self-Service has been a fixture in Dell Rapids since 1976. The name's a bit of a misnomer, though; customers who don't want to leave the comfort of their cars can get full-service treatment and leave with a full tank of gas and clean windshield at no extra charge.  
It's one reason why the gas station and convenience store, located three miles from the interstate, have such a loyal following. Another factor is their commitment to supporting the local community.  
Rolling the Dice on a New Venture 
Tim and Carol Parks' decision to purchase a former Mobil gas station 45 years ago and transform it into a convenience store was a roll of the dice.  
"My dad didn't even know how to change oil at the time," son Mike recalls.  
But the couple was looking for an opportunity to go into business for themselves and dedicated to seeing their venture succeed. Tim was a substitute rural mail carrier and helping his brothers run a meat market while Carol was a school cook. With four children at home, there was a need for more steady income. They'd told a realtor to be on the lookout for opportunities, and when the gas station was put up for sale, they jumped at the chance. According to Mike, his mom was the one to get the ball rolling. 
"I think she bought it without even asking my dad," he says.  
Carol put her stamp on the business from the start. If it had been up to her, in fact, the name would have been different.  
"For less than three hours, it was actually called C&T," Mike says. "But it was quickly changed when my father said, 'no, no no … my name has to be first!'" 
Community Means Everything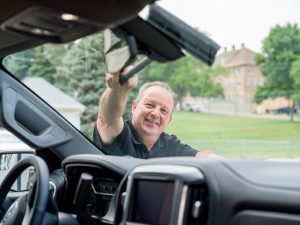 One of their earliest decisions was to turn the place into a convenience store. That's something most of us take for granted today, but in 1976, gas stations and convenience stores were a rare pairing. The Dell Rapids convenience store was one of the first in the country, as a matter of fact.  
Not long after opening, Tim got a full-time job with the rural mail service. He'd help out at the station on weekends and whenever he could, but Carol was instrumental in the day-to-day business. She continued to assist with everything from bookwork to cleaning until she was 80 — long after Mike had taken over the business.  
Mike's decision to carry on the family business wasn't a difficult one. He'd gone to college for a single semester but never felt like he fit in. He was offered an opportunity to run a pizza restaurant but turned that down and came back to Dell Rapids instead. 
"I thought, why run somebody else's business when my parents could use me back home?" he remembers. "It's kind of silly running around working for somebody else when my folks need me. So, I returned home, and it's been a good fit. I have absolutely zero complaints."   
Mike's favorite part of the job is the people. When you're in business for decades in a small community like Dell Rapids, you get to know everybody.  
"I can't tell you how many friends I've made and how many people have touched my life," he says. "It's kind of like a bartending job. I get to counsel people and make a difference in the world. It's hard to believe that a guy in a convenience store can do that!" 
Support is a Two-Way Street 
In addition to lending an ear and offering advice, Mike supports various organizations throughout Dell Rapids, from schools and charities to junior football leagues. In return, the town has always supported him. The lifelong Dell Rapids resident can't say enough good things about his hometown.  
"I couldn't ask for a better community," he says. "Dell Rapids is a great place to live, and it has been a joy to be here. I feel lucky to be here."  
"I can't tell you how many friends I've made and how many people have touched my life. It's kind of like a bartending job. I get to counsel people and make a difference in the world. It's hard to believe that a guy in a convenience store can do that!"




Mike Parks, T&C Owner
Mike is also grateful for the service Golden West has provided him over the years. The cooperative has played an integral role in his business — everything from transmitting credit card transactions to Wi-Fi.  
"Golden West has always been tremendous for our business and our community," he says. "They've kept up with technology very well and allowed my business to keep up with it very well. If we have issues, next thing you know they're out here fixing things. I've never had to wait long for servicing."  
Mike isn't even remotely ready to think about retirement yet, but when the day comes, there's a great chance T&C will remain a family business. Son Riley is very involved in operations and likely to take over someday.  
"Things change," Mike says. "People change. Opportunities come along, but Riley enjoys the business. On a percentage basis, it's highly likely we're going to have a third generation in here." 
For the townsfolk who look to T&C for camaraderie as much as cold beer and a fill-up, that's very good news.  
Check out our Meet the Owners Video with Mike Parks of T&C in Dell Rapids: