Bridgewater Musician & Makeup Artist Illustrates Children's Book Series
Rebecca Swift has pursued many interests over the years. The Bridgewater resident is a makeup artist, musician, social media director, illustrator, and mother of three. She may not be a household name, but anyone who has ever picked up a Porter the Hoarder book is familiar with her work.
Rebecca's drawings bring the spunky little girl at the heart of Sean Covel's popular children's book series to life. And she owes it all to her own little girl, Logan.
Bridgewater is an unlikely base of operations for a woman whose business partner is a well-known Hollywood producer, but it suits Rebecca perfectly fine. The Yankton native is a single mother of three: daughters Logan (17) and Quinn (14), and son Thomas (3).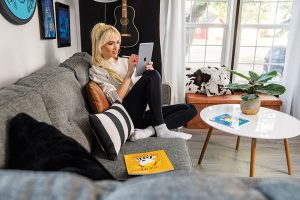 She moved the family to Bridgewater several years ago because its location midway between Mitchell and Sioux Falls provided her with more makeup job opportunities. Along the way, she discovered other advantages to living in a rural setting.
"My favorite part about this town is the quiet — and the people," Rebecca says. "It's really shown me this sense of community at a time where I was in over my head."
Rebecca means that almost literally. Soon after moving into her home, the basement flooded. The first-time homeowner felt overwhelmed, but not for long.
"Water was coming up in my basement, and I felt helpless," she says. "But then, all these people just showed up and rallied with their mops and buckets, and they saved me. I really feel like community is a special thing that not a lot of people in 2021 get to experience."
Music, Makeup, & Movies
While Rebecca's main projects today involve makeup and illustration, she is most passionate about music.
I actually pursued music first," she says. "It's something I got into about 10 years ago, but it got pushed so far beneath everything else."
Her musical talent landed her onstage with some of the biggest names in the record business. Rebecca auditioned for American Idol in season 11 and made it through several rounds, all the way to Hollywood week, where she "forgot all the lyrics and was sent home by default." The experience gave her pause and she put a planned album on hold.
Instead, she went to makeup artistry school, where she was talented enough to land gigs as a movie makeup artist. That opened her eyes to additional possibilities. "I was inspired to do theatrical makeup after I did a movie in New Orleans," she recalls. "It was my first time dealing with bullet wounds, that kind of thing. I was like wow; this is way more fun than beauty makeup!"
So much fun that she was soon using makeup to transform herself into celebrities and other famous faces — everybody from Captain Jack Sparrow to Sophia Vergara.
Logan the Hoarder
Sean Covel, a producer of Napoleon Dynamite, met Rebecca while both were auditioning for an acting role in Hill City. The two became fast friends and developed a professional working relationship. The seeds for their collaboration on Porter the Hoarder were planted when Rebecca's daughter, Logan, was three years old.
"I was helping her clean her room, and I pulled out one of the drawers," Rebecca recalls. "She was hoarding all this candy and wrappers and all kinds of stuff. I was like, oh boy, my little girl is a hoarder! So, I illustrated a little cartoon of her and shared it with Sean. He's like, wow — this is a cool idea. Would you mind if I take a crack at it and write a book? That's how our business relationship started."
It's been a fruitful working relationship; there are currently six Porter the Hoarder books in print, and the pair hope to eventually flesh out 64. The books are interactivelook-and-find adventures where young readers help Porter locate hidden objects. They have donated 30,000 books through foundations like United Way, which distribute books for free to children in South Dakota, Utah, Montana, and North Dakota. Their long-range plans are to turn Porter the Hoarder into a full-fledged educational program that will teach kids different skills and let them know that it's okay to express emotions.
Golden West Provides Seamless Collaboration
Even with Rebecca in Bridgewater and Sean living in Boulder, Colo., the pair can collaborate seamlessly … thanks in part to the service Golden West provides.
"Golden West is literally the base of my being able to exist and put things out into the world from Bridgewater," she says. "Whether it's uploading videos to Instagram, keeping in touch with business correspondence on Facebook, just doing research for everything and being able to transfer these drawings for the books. I send every single one out wirelessly to our graphic designer in Mexico. I couldn't achieve any of this if I didn't have Golden West!"
With another 58 planned Porter the Hoarder books, Rebecca has plenty to keep her busy … but she hasn't given up on music. She recently built a recording studio in her home and is writing a song for every book.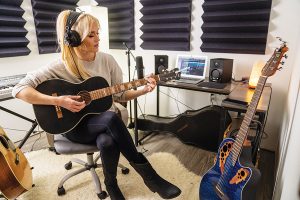 When she and Sean visit schools, they'll play an acoustic guitar song about Porter to entertain the kids.
"It's cool when all the worlds intertwine," she says. A decade ago, I didn't think I would be making music for a children's book series with a business partner that I met at an audition where I wanted to act!"