Pivoting in a Pandemic
Members Prove Resilient When Faced with COVID-19
Education Moves Online
Wall Math Teacher and Parent Shares Experience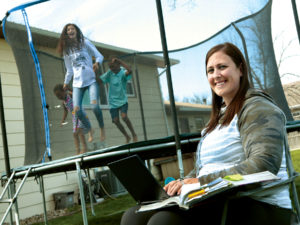 Ashley Kier never imagined she would be teaching her middle and high school students online, but that's what happened when Gov. Kristi Noem recommended closing South Dakota schools to prevent the spread of COVID-19.
I get a lot of joy from seeing my students in my classroom," said Kier, a math teacher in Wall. "I never thought we would only be seeing each other on a computer screen."
Getting Started
After the governor's announcement March 13, teachers in Wall spent two days the next week preparing for the change together. They planned to offer online classes for one week starting Monday, March 23.
"I got started the weekend before," Kier said. "My goal was to touch base with all of my students before Monday, so that we could begin the curriculum with as little stress as possible." Kier was fortunate. The Wall School District sent laptops home with all students in grades four and up, and all of her students had access to the internet.
It's Going Well
One week of remote learning quickly extended to two, and now teachers and students across the state are finishing the school year online. Overall, Kier, a 10-year teacher, said it's going well.
"I feel confident that my students are still reaching their math goals, and they're still learning," she said. "My students are the heroes here. They are awesome."
Just as she does in the classroom, Kier teaches a new class each hour all morning via Zoom video conference. While most students attend live, she records the lessons for those who miss. Students who need extra help can also watch again later. In the afternoon and evening, Kier connects with students individually and makes sure everyone is on track.
Parenting While Working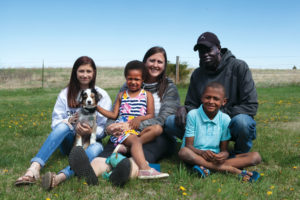 Kier understands the challenges parents face with remote learning. She has three children at home including Alexis, 14, Kobe, 7, and Kelsey, 4.
"That's the hardest part for me," she said. "When I'm done calling and texting and emailing students, then I turn my focus on my own kids. Juggling it all is interesting. It helps me as a teacher think about how I can make this as easy as possible for my students and their parents."
Kadoka Distillery Helps Keep More People Safe
Switching to Sanitizer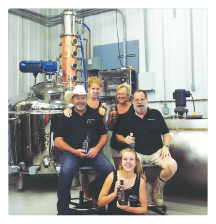 After hearing news stories about a nationwide shortage of toilet paper and hand sanitizer, Sandy Eschenbacher asked hospitals and clinics in the area about their hand sanitizer supply. They needed more.
So, Eschenbacher and her partners at Badlands Distillery in Kadoka got to work. The business typically distills corn to make bourbon, as well as making a family's moonshine recipe from prohibition days. After COVID-19 turned the world upside down, the distillery switched to producing hand sanitizer to help keep more people safe.
FDA Regulations
First, they had to navigate state and federal laws regulating hand sanitizer. According to Eschenbacher, the distilleries making sanitizer were required to register with the Food and Drug Administration (FDA) and follow the recipe provided by the FDA.
"When we make bourbon, the recipe is already within the federal guidelines," said Eschenbacher. "When it comes to hand sanitizer, similarly, we need to follow one very specific recipe from the FDA."
Next, they had to obtain additional ingredients to make the hand sanitizer. The Badlands Distillery had already ramped up production and started stockpiling alcohol for the summer tourism season. However, now they needed ethanol, glycerin and hydrogen peroxide, which they found from local providers in South Dakota.
Serving Health Care Facilities
With a surplus of whiskey bottles on hand and the paperwork complete, the crew started production on March 27 – just eight days after the business decided to make sanitizer. Initial customers were health care facilities.
"We donated cases to the VA, Philip Hospital, nursing homes, EMT's and other medical facilities," said Eschenbacher Soon after, sales and distribution extended to businesses, individuals and even truck drivers."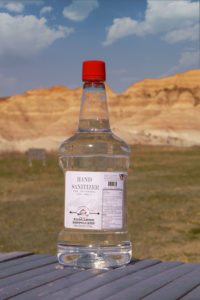 "People with underlying conditions, including cancer or Lupus and other medical concerns began calling, because they couldn't find sanitizer anywhere else," she said. "It feels good to help people in need."
Employing & Distributing
With the help of added employees from Kadoka, the Badlands Distillery produces 120 cases of hand sanitizer a day now and distributes throughout the region, including Sioux Falls.
"It's funny, back in the day, the federal government didn't want people operating a distillery," Eschenbacher said. "Now they are asking us to do it!"
Farm to Table
Expanding Wall Beef & Pork Market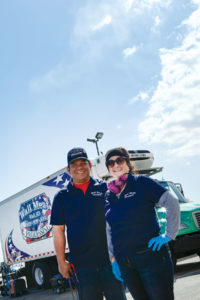 Since Ken Charfauros and Janet Niehaus purchased the Red Rock Restaurant and Wall Meats a couple years ago, the pair has followed a farm to table concept and served local beef and pork.
"We've been charging down this local beef and pork route for a while now," Charfauros said. "It's about supporting the economy and keeping the revenue within our region."
Serving Ranchers, Schools, Seniors
Wall Meats processes meat for area ranchers. Last year the company worked with producers and the Wall School District to serve local beef in school lunches for the first time in South Dakota. This year they provided beef to seven more schools under the state's Farm to School program. Wall Meats also sells local meat to other area restaurants and to 90% of Meals on Wheels sites in western South Dakota.
The Red Rock Restaurant was planning a customer appreciation event in March. The restaurant was also preparing a new menu and had a calendar full of catering events. Then COVID-19 hit.
Red Rock Switches to Curbside
With virtually all of its events postponed, Red Rock closed its dining room and switched to serving meals curbside. Many restaurants in Rapid City also closed, and meat demand increased in grocery stores.
"When we got word that Rapid City was running short on protein, we shifted our business plan," Charfauros said. "We got innovative and started to move our restaurant employees to process meat, because we refused to let them go. We had to find a way to pay them."

Taking Products on the Road
A truck used to deliver beef for schools and seniors positioned the business perfectly for hitting the road. Wall Meats scheduled weekend sales around the Rapid City area and promoted them online.
They planned for people to shop, but inventory quickly ran out. So they started taking preorders, which grew from 20 the first week to as high as 80.
Niehaus works at the meat sales events. She said she feels good about providing customers with something they can't get at the store.
"It's a huge undertaking and a lot of responsibility to keep the food safe, the staff safe and our customers safe," she said. "It's very fulfilling to know how grateful people are and to realize that those who live in the city don't have connections like folks from Wall. They either have to go without meat or run all over town trying to get what they need."
" It's very fulfilling to know how grateful people are and to realize that those who live in the city don't have connections like folks from Wall. They either have to go without meat or run all over town trying
to get what they need."

Janet Niehaus
Wall Meats & Red Rock Restaurant
Food Trailer Promotes Products
A recent food trailer purchase has enabled Red Rock to serve meals in Rapid City's Founder's Park five days a week. They started in mid-March, two months ahead of the targeted May launch.
"We've made a lot of fans of our steak and pork tips," Charfauros said. "Some Facebook comments say they've never tasted anything better."
Best of all, the food trailer promotes the meat truck. "You have an opportunity to taste what you can purchase and prepare for yourself," he said.

Residents Connect With Loved Ones
While Dells Nursing & Rehab no longer allows in-person visits, the Dell Rapids facility recommends other options to connect residents with loved ones to keep everyone safe.
Dells Nursing & Rehab has shared pictures on Facebook of residents with whiteboard messages for their family and has encouraged phone calls, letter writing and visits by the window. "The residents enjoy these things so much," says Office Manager Tennile Spoonemore. "It quickly puts a smile on their face!"
Drive-In Worship
Church Also Shares Service Online and on TV
On Easter Sunday about 50 vehicles gathered outside the United Church in Philip, but no one got out. Instead, they worshiped from inside their cars and pickups.
"I was outside wondering around as we're doing the service," explains Rev. Kathy Chesney. "I got rained and snowed on the next Sunday."
As she preaches, Mike Seager broadcasts the audio to an FM radio station. At the same time, Ralph Gebes live streams to the Philip Public Television Facebook page and records the service to share later on local cable channel 91.

Easter Sunday Service
United Church moved to drive-in church in April in response to social distance recommendations. The creative worship alternatives have been well received, Chesney says. About 1,200 people have viewed Easter Sunday service online, including friends and family of residents with some reconnecting to their hometown.
"The last thing I thought I ever wanted to be was a televangelist," she says. "Now I'm a televangelist and a street corner preacher."
Watch Our Mental Health
Chesney also administers the Food Bank Account in Philip and works as an EMT for the ambulance service. ,She emphasizes the importance of supporting and reaching out to others to see how they are doing during the pandemic.
"We need to watch our mental health as this carries on," she says. "We can call or reconnect through writing notes and sending cards. I think that's going to be super important as this goes on."
Help Is Appreciated
Chesney appreciates Seager and Gebes sharing their talents to make the drive-in services possible.
"Mike is so good, and Ralph is going above and beyond for what he's doing to keep this community informed with channel 91," she said. "We may consider keeping some of the media options that we're using."