South Dakota Couple Serves Meals on Wheels … and Behind Brick & Mortar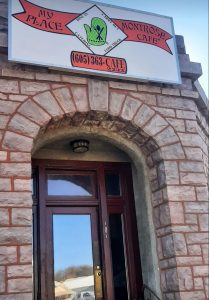 Maxine Montreal is used to serving food on the go. Literally. She and husband Ray have been dishing up hot sandwiches, breakfast burritos, and goulash from their mobile food truck since 2014. In January, they took a detour and opened a brick-and-mortar café in Montrose.  
There may be less wind in her hair when she's cooking now, but a larger kitchen has allowed Maxine to add new dishes while retaining long-time favorites. And Montrose residents are beginning to take notice.  
Takin' It to the Streets 
The Montreals are partners in more ways than one. Ray, a native South Dakotan, is a carpenter by trade; Maxine — who originally hails from Oklahoma — designed the food truck and he built it.  
My Mobile Café hit the streets eight years ago, focusing primarily on breakfast and lunch items. They amassed a loyal following, with Maxine's homemade goulash especially popular. Eventually, they thought it might be a good idea to branch out.  
"We'd been looking around for a while, going around to different towns and checking out different places that were available," Maxine says. "We've always liked Montrose. Every time I was there with the truck it did really well, and the people have always been friendly and welcoming."  
When a building in Montrose that suited their needs went up for sale, the Montreals didn't even hesitate.  
"Other places we went were just renting a building," explains Maxine. "We had a chance to buy the building itself in Montrose. This was a better deal."   
Lasagna for Breakfast 
My Place Montrose Café opened for business this past January. They focus primarily on breakfast and lunch, with dinner service available Friday and Saturday. The eatery fills an important niche in town. 
"There's a bar that serves food, and then there's the American Legion," Maxine says. "We're the only restaurant." 
Maxine has a long history in the food service industry, but any new venture is going to present a learning curve. My Place Montrose Café is no exception. The Montreals are still feeling things out, trying to figure out different events and learning what types of dishes appeal most to customers. Already, there are some clear standouts. 
"The truck was one thing, and the restaurant is a little different," Maxine shares. "Goulash was really popular, and that has taken off here, too. We have some sandwiches that are really popular. We do a pork and provolone that people seem to go crazy over." 
Then there's breakfast. Maxine serves a pancake lasagna consisting of layers of pancakes with a maple bacon bechamel sauce, scrambled eggs, cheese, and bacon, ham, or sausage in between.  
"We sold out every time we made it on the truck," she shares. "The first few times we served it here, people were a little bit leery. But they're catching on!" 
Learning on Their Feet 
Though the Montreals don't reside in Montrose — home is just south of Bridgewater — they have embraced the community and enjoy getting to meet new people. Ray is more involved in the upstairs portion of the café, interacting with customers, while Maxine is busy cooking in the kitchen on the lower level. Other family members pitch in, as well.  
"We're grateful to have our favorite Golden West employee, daughter Cherie, moonlighting on weekends, as well as several of our granddaughters," Maxine says with a laugh.  
Like most cafés, My Place Montrose attracts students who want a cozy place to do their homework while grabbing a bite to eat. Golden West internet and Wi-Fi provide those connections so important to people nowadays.  
"That's been handy," Maxine says. "We just got fiber hooked up at home, too." 
Four months in, the Montreals have already got a laundry list of plans for the café, including remodeling and freshening up the outside.  
"Time will tell," Maxine says. "It's kind of the slow season right now for restaurants. We wanted to get our feet wet and get going. Memorial Day through Labor Day should be a little bit busier." 
Especially once word of that pancake lasagna spreads.