My Account Has Been Hacked! Now What?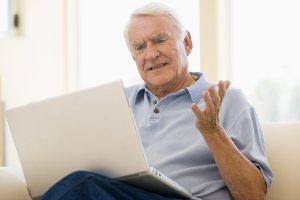 It's a sinking feeling to learn that your email, social media, streaming or other computer account has been compromised. If you've been hacked, there are several crucial steps you should take to mitigate the damage.
Seth Engel, Golden West Help Desk Supervisor, has dealt with his share of compromised accounts. Fortunately, subscribers are automatically protected once a breach to their Golden West email account has been detected.
"When we show an account has been compromised, the password is automatically changed," Engel says. "You'll have to call us back to change it. Golden West will then go through a verification process to confirm your identity, but in the meantime the randomized password will prevent further damage."
Follow These Steps if You've Been Hacked
1. Change your password.
If you're dealing with an account other than your Golden West email account, such as Facebook, the very first thing you should do, Engel says, is manually change that password immediately.
Engel says when choosing a password, you don't have to come up with a chaotic, random series of letters and numbers. "The thing that really makes a password secure is the length," he advises. A 16-character password, for instance, should be sufficient to protect against a brute-force attack, which is the practice of trying to guess a password by trying different combinations.
"It doesn't even have to be a password," Engel suggests. "You can think of it as a pass sentence. Don't double up on your passwords; use something different for email, social media and other accounts."
2. Scan your computer for malware.
Malware, short for malicious software, can wreak havoc with your data and allow unauthorized access to personal information, so it's imperative you remove it ASAP. Every Golden West subscriber who bundles internet with other services automatically has access to VIPRE Advanced Security software, which will scan for and remove malware, at no additional charge. For those who have not taken the steps to install VIPRE, visit goldenwest.com/vipre or call Golden West for assistance. Those with internet only can add VIPRE for $4.95/month.
After you've installed your security software, make sure you keep it up to date and allow security updates to go through. If you're unable to remove malware yourself, Golden West offers a remote support service called Golden SHIELD. This enables technicians to access your system and remove any malware or viruses for a fee. Repairs are available by calling 1-866-264-7397.
3. Notify contacts that your account has been hacked.
Another important step is to let your contacts know when your account has been breached. Instruct them not to reply to any messages, accept social media friend requests or click on links or attachments. These are phishing attempts that put your contacts at risk of malware.
4. Check your bank account for unusual activity.
Most hackers aren't getting passwords to steal money from your accounts; they want the ability to use your email credentials to send out more spam messages. Nevertheless, it never hurts to pull up your account information just to be sure.
"The more emails they send out, the more chances they have that somebody will click on a link," he explains. "That gives them yet another new email and password to use, and they can turn around and sell that information."
It's important to keep in mind that the folks who send out spam are a dedicated and determined group of people with nothing to lose. The popular image of a loner sitting in his basement is a misperception; in reality, there are entire companies dedicated to the practice, which can be an important source of income for communities in less-privileged countries. The practice won't go away, so knowing what to do in advance will help keep you protected in the long run.