Midwest Honors Flight
Murdo vet and others receive thanks for their service
While visiting the Vietnam War Memorial in Washington in May, a Vietnamese family thanked Seymour (Sam) Pressler, an Army veteran from Murdo, and other veterans for their service to their country.
"I don't know if they happened to be there or they knew we were going to be there, but that was one of my favorite parts of the flight," says Sam.
Sam was taking part in a Midwest Honor Flight with his grandson Blake Regenmorter serving as his guardian. The pair traveled with 85 other veterans and their guardians on the organization's Mission 15.
All-expense-paid trip
Midwest Honor Flight serves northwest Iowa, South Dakota, northeast Nebraska, and southwest Minnesota. The non-profit organization raises funds to provide respect, honor, and closure for local veterans through an all-expense-paid trip to the nation's capital. Golden West donated funds towards this latest flight. Each whirlwind trip lasts about 24 hours with the first mission organized in 2017.
Joe Steffen, a project analyst with Golden West, was also on Sam's flight, serving as a guardian for another veteran. A native of Hartford, Joe is a Navy veteran who served during Operation Desert Storm.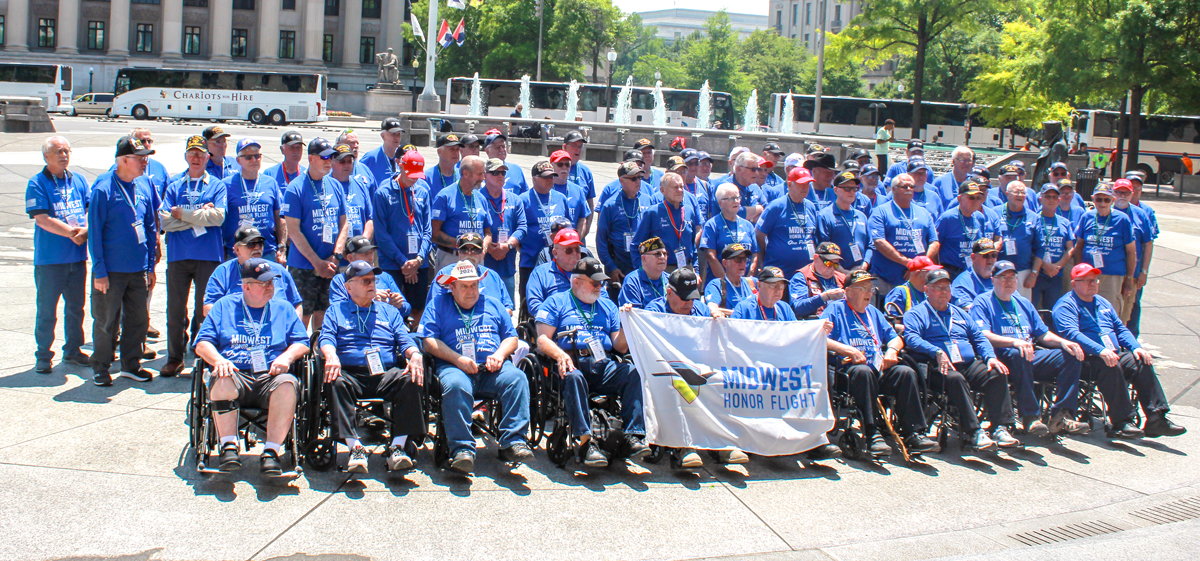 Coming home to the ranch
Sam grew up in the Murdo area on his family ranch. He served two years and went to Vietnam as a medical records clerk, eventually becoming a medical corpsman.
As a draft volunteer, Sam was discharged early. He recalls his colonel showing him a picture of a boy and a girl holding a baby calf.
"When I saw that picture, I knew I was going home," Sam says. He told the colonel he was going to help his dad on the ranch.
Favorite memorials, memories
After flying from Sioux Falls to Washington, Sen. Mike Rounds greeted the veterans before they visited multiple memorials. First, they went to the Marine Corps Memorial, then to Arlington National Cemetery.
The veterans also visited the Air Force and Navy memorials, the national monuments honoring the World War II, Korea, and Vietnam wars, and the Lincoln Memorial. Sen. John Thune, who also grew up in Murdo, greeted them at the Vietnam Memorial where the interaction with the Vietnamese family occurred.
Heartwarming homecoming
After a long, fulfilling day, the veterans returned to Sioux Falls. There, hundreds of people with flags, signs, and even a police escort surprised and welcomed the veterans. On the way home, each veteran also received handwritten letters expressing gratitude for their contributions and service.
"The whole flight was planned out great for the amount of people and places," says Sam.