How Rural Business Enables Others to Monitor
& Protect Animals & Property Online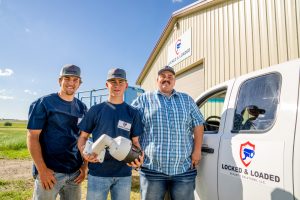 Jade Konst has always been interested in technology, and his previous work experience has shown that. So when he and his wife Bailey started a business, the technology sector was a natural focus for them.
"Technology is not something that is going away, and it is something that is going to continue to become more important," says Jade who was born and raised in Philip.
From Dell Rapids to Deadwood
With that in mind, the couple took a leap. They moved from Hot Springs to Murdo to be closer to family, and in early 2020 they launched Locked & Loaded Security Solutions. The business provides camera security solutions for residential, commercial, and agricultural customers, as well as computer setup and repair, data wiring, and point-to-point systems to provide internet to remote locations.
Jade says his own experiences motivated him to start the business.
"I would see ads for cheap, wireless cameras on TV, and I tried them myself," he explains. "But I was never very happy with them. I realized you can never find anyone to come and install them, so I decided, 'I bet I can figure it out.'"
With his first few projects – including installing cameras for the City of Murdo finance office and shop – he realized he also enjoyed it.
The Covid-19 pandemic set in just a few months into the start of their business, which added stress. But by summer 2020, Jade had secured several projects to install surveillance cameras in calving barns – 53 in four months to be exact. Projects at homes and commercial properties soon followed. In less than three years, the Locked & Loaded business has grown exponentially.
"The business is bigger than I ever would have thought," Jade says. "I have put in cameras all the way from Dell Rapids to Deadwood, and as far north and south as we want to go."
Jade works with a couple employees for the hands-on installation aspect of the business, while Bailey manages the bookkeeping and financial aspect. Jade credits her with also keeping him organized and says without her encouragement and support, the business wouldn't be the success it is today.
Growing With Customer Needs
While security cameras are the "heart and soul" of their business, Jade says his problem-solving approach to customer needs has opened up an array of services. He has clients who request help in purchasing and installing new computers and has branched out to providing internet wiring services into buildings.
At customers' requests he has also installed Wi-Fi-based alarm systems and temperature sensors that will automatically send a text to alert the owner if something is amiss. One example of the temperature sensors was installing them in the freezers for a meat retailer. He anticipates these sensors may also become popular in vacation homes so that owners can monitor inside temperatures while they are away.
Jade takes pride in helping clients find solutions to their challenges.
"To me the fun part is that you can make the business what you want it to be," he says. "There's always going to be new, fun technology to start implementing and put out there."
Reliable internet services provided by Golden West and other telecom companies has been integral to the success of Locked & Loaded Security Solutions. Jade has an added appreciation for the services after working for Golden West as a field services technician for about four years before starting the business.
He credits Golden West for reaching rural South Dakota communities, as well as farms and ranches. The cooperative's services allow customers to use the technologies Locked and Loaded Security Solutions offers to help keep property and livestock secure and safe.
"Without internet, customers couldn't have access to their cameras on their phones or their computers or their iPads," Jade says. "The calving barn cameras would be non-existent."
Looking ahead, he anticipates a bright future for the business.
"I think as long as we keep working and keep striving and trying new things, the sky's the limit as far as technology goes," Jade says.
---
Connected to Community
While Jade Konst enjoys helping his clients with their technology needs, he says one of his favorite aspects of being a South Dakota business owner is the opportunities it creates to connect with communities.
"One of the things that excited me most when I started this business was, it was a way to give back," he says. "The biggest way I can help is getting on committees and boards."
Jade serves on a Murdo board tasked with strategic planning and economic development, and the Konst's frequently support fundraisers and memorial events in Murdo and surrounding communities.
A lover of football, Jade also has a long history of coaching youth football programs and has served as the head football coach for Jones County High School for the past three years. Some of his former – and current students – have also worked with him during the summers at Locked & Loaded Security Solutions.
Additionally, Jade has spearheaded a "locked and loaded skills and drills camp" in the summer for youth in sixth through twelfth grade. For the free football camp, he brings in several football pals who played at the college level, as well as area coaches to work with the athletes.
"It's a good experience for the kids," he shares. "We feed them lunch and there are trophies for a few awards. It's probably one of my favorite events because it combines my favorite things which is my business and football."