Field tech finds career fit closer to home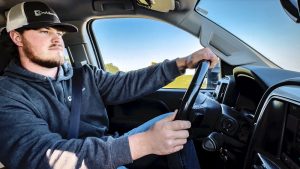 Austin Parry hasn't strayed far from his hometown of Canistota and the family farm upon where he grew up.
After high school he studied Wi-Fi and broadband technologies down the interstate at Mitchell Technical College. As a student he completed an internship at Golden West. For almost two years now he's been keeping customers in and around the Hartford area connected through his work as a field service technician.
"I was pretty sold on working at Golden West after the internship. I'm able to do my job while also being able to help on the farm in my spare time," Austin shares.
Connections, community, customers 
Austin takes pride in all the work he does for Golden West. He enjoys learning more about his customers and establishing relationships.
"I like making sure all my installs are nice and neat, and that the customer's happy with how I did it and the service they're getting is what they need," he says.
Austin appreciates his coworkers and working for Golden West. He also enjoys working in the Hartford area because of the community, the people, and "the good vibes."
Austin also admires the more experienced Golden West service technicians and how knowledgeable they are about their work. They build great friendships and relationships with customers and contractors, which is one of Austin's goals.
Step by step 
Austin's typical day includes reporting to the Hartford office, then checking what needs to get done first. This is usually completing a few installs.
While he works long days as a field service technician and follows a similar daily routine, every day isn't necessarily the same for Austin. Every house isn't the same for the installs he completes, and he enjoys the variety.
According to Austin, a perfect day on the job is one where no troubles arise. But when a stressful situation or challenge arises, Austin takes a step back, or a "breather." He looks at what he needs to handle and tackles it step by step from there. This perspective is how Austin and his coworkers are currently concentrating on a larger network project in Hartford.
"We are working to provide one system for all customers, and customers will get faster and more reliable services," Austin says.
Looking ahead 
Moving forward, Austin sees himself continuing to work as a field service technician for Golden West, helping his family out on the farm, and enjoying summer weekends in the Black Hills.
His advice to someone who aspires to be a field technician someday is to "soak up all the knowledge you can from the other field service technicians – it makes everything easier."