After decades away, Armour native
returns to brew beer and happiness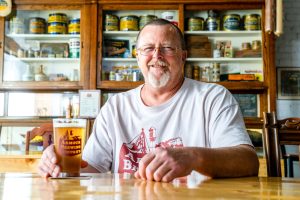 Randy Wiese left Lincoln, Nebraska, to open a brewery in his hometown of Armour, a town of just 700 people.
"That was one of our questions, 'Is it big enough to support a brewery?" he said.
The answer, he's happy to report, is yes.
Wiese, along with his friend, Chris Urquieta, opened Armour Brewing Company, LLC, in August 2020. The business has been thriving since the start. This year, Wiese's brother and sister-in-law, Collier Wiese and Dawn Merritt, joined the business, as well.
"When we started we started with three beers. Who would have thought that less than three  years later we would have 10 taps, and we actually need more," Wiese says. "We've been growing ever since we opened."
Coming home
Wiese grew up in Armour. He moved to Nebraska after high school and worked various jobs in his 35 years away, including in the tiling and remodeling businesses. Over the years, he maintained close ties with his family and friends at home. "I always thought I would move back, but I didn't know when," he says.
Urquieta had already moved back to Armour and was remodeling a local building when Wiese started thinking about returning home himself. "I started coming up and helping him do that project," Wiese says. "That's when we started talking about the brewery, and one thing led to another."
Wiese moved back in 2019, and the brewery business opened the next year.
Becoming brew master
Urquieta's sister owned a building on Armour Main Street, which became home to Armour Brewing. Wiese had spent the last 20 years brewing beer at home, and he knew a thing or two about the craft of making tasty beer. So, it made perfect sense that he would be the brew master. He also manages the business.
The theme of the brewery is German beer hall meets Armour history. It features long pine tables with benches, perfect for groups and good conversation. The decor leans toward local paraphernalia recalling Armour's history. In addition to Wiese's beers, they serve Papa Murphy's pizzas and Bavarian soft pretzels.
Response from the community was strong from the start. "A lot of people were very excited about it and glad to see another business in town," he says. "There's a lot of beer drinkers, and they were happy about having something different."
Bringing people to Armour
The business has also benefited from the surrounding communities. "We get a lot of out-of-town customers who help support us," he says. "We actually get people from Sioux Falls and Mitchell and within a 45-mile range there are quite a few smaller towns." Armour Brewing beers are also served in other breweries and bars in the area.
The brewery started with one room but quickly expanded to accommodate more seating. Just two years after opening, they added yet another room with a stage where they showcase local area bands and entertainment.
Connectivity is key
From the very beginning, the brewery has been a Golden West customer, utilizing the high-speed internet and reliable connectivity. "With our retail system, we need to be connected to the internet," he says. "And having such reliable internet has made things easy,"
The high-speed connection has made the venture all the more possible, he says. "That's been a huge advantage and I think it would be difficult without it. It definitely makes everything work better."
As for Wiese's personal journey from tile layer to brewery manager and brew master, it's been all positive, for a lot of reasons. "Obviously it makes me feel good being able to have another business in a small town because a lot of towns struggle with that," he says.
But it's even more about community. "It gives people a place to come together," he says. "I enjoy making stuff that makes people happy. Here I am making good beer in Armour, South Dakota, and people appreciate that."