A Little Sunshine Helps Brighten the Day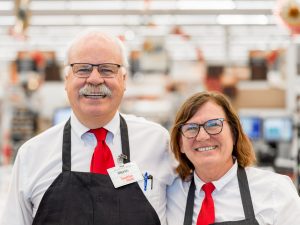 Merlin Goebel says the most important ingredient in running a successful business in a small community is getting to know your customers and being able to adapt to their needs. That might mean bringing in an unusual product when requested — even if it may not be a big seller.
"Just the other day I had a request for gluten-free almond flour," he says. "It's never going to be a big mover for me, but I'll get it in and give it a try. The advantage we have over a big corporate store is, I don't have to go through four levels of management."
Merlin and wife Sherri own Sunshine Foods and for two decades have been willing to do whatever it takes to make their customers happy.
Partnership Leads to Hartford Opportunity
Merlin grew up on a farm outside Worthington, Minn., but his passion lay in the grocery business. After studying supermarket management at a vocational school in nearby Pipestone, he took a job in Luverne. When that store was sold in 1999, Merlin worked for Jubilee Foods in Luverne for a year before moving to Flandreau. There, he partnered with Tony Bosch, owner of the Jubilee Foods chain, which was rebranded Sunshine Foods in 2004.
"Tony invited me to come down to Hartford in the fall of 2000," Merlin recalls.
Merlin pulled double duty at both the Hartford and Flandreau stores, commuting back and forth between both locations for over half a year. Ultimately, they sold the Flandreau store, which freed Merlin to focus on Hartford. He and Sherri bought a house there in 2002, but it would be another six years before his wife joined him.
"Sherri was still at Bayliner Marine in Pipestone, working weekends with me down here," he says. "It was 2008 when she quit working up there and joined me here full time."
That year, the couple bought out Tony and took over full ownership of Sunshine Foods in Hartford.
'Supporting People in Your Town is Important'
If adaptability is the key to success, interaction with customers is where it all begins.
"You have to know your customers," Merlin says. "You have to know what they want, and you can't be afraid to go get it."
For the Goebels, that means sourcing locally grown produce. Hartford's location in a prime agricultural area certainly helps.
"We're able to buy local produce in season," Merlin explains. "For instance, all our pumpkins come from 10 miles away. Corn comes from 10 miles away. We've got fresh green beans in season from 10 miles away. Freshness is important, and you're supporting the local economy."
Community involvement is very important to Merlin and Sherri. They support a wide variety of causes, from Hartford food pantries to providing a space for Hartford youth to raise funds.
"Every year I get Girl Scouts coming in wanting to know if they can sell their cookies in the store," he says. "I tell them, 'Of course you can,' even though I'm in the cookie market. The Boy Scouts come in and sell their popcorn. I support my high school aged employees with job training and responsibility. Supporting the people in your town is important."
Hartford's Progressiveness is Appealing
Though they aren't South Dakota natives, the Goebels love Hartford and are excited with the direction in which it is headed.
"It's a nice, growing town, and I like the progressiveness," Merlin says. "We've got a city council that's forward-thinking. We've got a chamber of commerce that is actively involved in supporting the businesses here. We've got a development foundation that is always on the lookout for different opportunities."
Established businesses like Golden West play an important role, too.
"Reliable internet connection and phone service is a big deal," Merlin says. "I can't function without it. If I ever have an issue, I barely get off the phone and Golden West is here because they're five blocks away."
Not Ready to Retire Yet
When asked what the future holds, Merlin pulls no punches.
"Bigger and better things," he says.
While he and Sherri have cut back their hours some, they still work seven days a week. And even though two of their children are poised to take over the business eventually, Merlin is nowhere near ready to retire yet. They're having too much fun.
"I like to get up in the morning and come to work," he says. "I look forward to it and enjoy it immensely!"
Check out our Meet the Owners Video with Merlin & Sherri Goebel of Sunshine Foods in Hartford: