115-Year-Old Hotel Regains Its Former Glory One Floorboard at a Time
When Paula Vogelgesang gets an idea in her head, she commits to it 100%. Her monthly PennyWise newsletter, a homespun publication that provided money-saving tips and recipes, ran for 28 years before publishing its final issue in Dec. 2021. Today, Paula — a Wanblee resident and member of the Golden West co-op — is passionate about another project: the restoration of the Pearl Hotel in Kadoka.
Built in 1907, the once-elegant structure had fallen into disrepair by the early 2000s and the city was threatening demolishment. That's when Paula and a group dedicated to preserving its history stepped in.
Ornate Details Offer a Glimpse of Past Glory
Walking through the renovated dining room of the Pearl Hotel, Paula's voice resounds with pride.
"It's all original," she says, pointing out ornate touches like stained glass windows and the decorative molding that covers the walls and ceiling. Other vintage artifacts — an icebox, a washing machine with a wringer, even an ancient fire extinguisher — can be found in the kitchen and other downstairs rooms.
While the lower level of the Pearl Hotel has been refurbished and is now used for community gatherings ranging from graduation parties to family reunions, the upstairs is still very much a work in progress. Only a couple of rooms have been restored to their former glory; repairs to the ceilings, floors, and walls are ongoing elsewhere. Still, touches of elegance can be found there, as well, including ornamental linoleum and an intricately designed heating register stamped with an 1887 date.
It's easy to see the second-floor potential. There are no plans to rent out the rooms again; instead, they'll function as a sort of living museum. One of the rooms is decorated in early 20th-century period fashion, while the other contains military memorabilia, with artifacts from World War I through the Vietnam War.

Hot Meals and Lodging for Travelers
In real estate, location is everything. When the Milwaukee Railroad reached Kadoka in 1906, Jack Jones opened the Pearl Restaurant a block from the train depot, eager to cater to the needs of hungry travelers. Diners had 20 minutes to enjoy a family style meal, usually consisting of roast beef, mashed potatoes, gravy, salad, vegetable, and pie, before needing to reboard the train. Business boomed, and Jones added a second floor, with six rooms and a linen closet. The property was renamed the Hotel Pearl (later changed to Pearl Hotel). Additional expansion, including a balcony and more rooms, occurred over the next few years.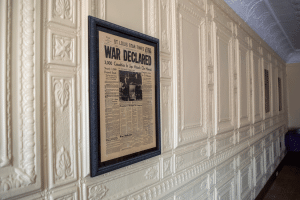 Jack and his wife, Minnie, operated the Hotel Pearl and Restaurant until 1924, when the Hans Boock family took over ownership. They ran the business into the 1960s, but the number of guests began to diminish once the railroad discontinued passenger service to Kadoka in the mid-1950s. The restaurant was closed but the family remained onsite, renting out a few rooms by the month to make ends meet. They sold the property to Blaine Dinsmore in 1972, who lived there until his death in 2002. His widow then sold the hotel to the city of Kadoka.
Passionate Group Saves Hotel from Demolition
That might have been the end of the story if not for the determination of Paula Vogelgesang and a dedicated group of preservationists.
"The town kind of blessed us with it, because they wanted to tear it down," Paula says. "Eventually, this old girl started hollering, 'no, you can't do that.' So, they said, 'okay, run it.' We don't have any way to run it as a hotel, but we needed a community center available to everyone. And so, that's what we've done."
Save the Pearl Hotel Incorporated was formed in 2007, the 100th anniversary of its opening. That same year, it was listed on the National Register of Historic Places. Restoration work began shortly after, and that was no small feat.
"It kind of took a beating in a lot of ways," Paula recalls. "It was in pretty bad shape."
Gradually, glimmers of its past glory were brought to life. Today, it's easy to see why the Pearl Hotel attracted salesmen, tourists, and high school students for so many decades in its heyday.