This is the time of year when ol' Saint Nick is making a list and checking it twice. Take a cue from the guy up north in the red suit and do the same yourself to ensure your technology is maximized for the holidays.  
Making sure you're ready for the holidays involves more than decorating a tree and wrapping gifts. The following technology tips will help you prepare your home for the season so you can focus on the things that matter most.  
B

ring Your Wi-Fi Up to Speed
When the weather outside is frightful, many of us find staying home delightful. That means relying on devices to keep us entertained. And if popular Wi-Fi-enabled gifts find their way beneath the tree, it's important to streamline your network before eager recipients try to connect.  
Often, the only time we use a Wi-Fi password is when we first set up a new device. Have this password handy so you aren't struggling to remember it when you're ready to connect.

 

The more devices you have connected, the more bandwidth or speed you use. If there are a lot of users in your home, consider a speed upgrade to ensure everybody can use their devices without interruption. Golden West is offering customers who increase their internet speed before Jan. 31, 2022, a one-time $100 bill credit. 

 

If you experience connectivity issues, try rebooting your router. Unplug it for 30 seconds before plugging it back in. This should resolve your issue. 

 

To keep your Wi-Fi operating efficiently and improve speed, position your router in a central location free of obstructions such as furniture and other electronics.

 
Set Up New Devices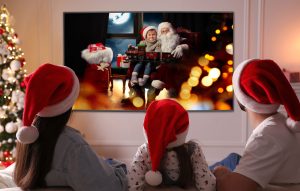 Kids aren't the only ones who end up with "toys" under the tree on Christmas morning. Ours are just usually a bit more complex! Setting them up may seem overwhelming, but following the step-by-step instructions makes it a snap.  
Got a new TV? You can control all basic functions by syncing it with your Golden West cable TV remote. Follow 

these instructions

 for your remote. 

 

Virtual assistants

 are all the rage these days. If you received an Amazon Alexa or Google Assistant device, you may be able to control your holiday lights, play Christmas music, and more with a simple voice command. Better yet, automate the process by setting up a routine. Click 

here

 to learn how to set up an Alexa routine. Instructions for setting up a Google Assistant routine can be found 

here

.
Embrace the Holiday Spirit 

Even though it's dark early this time of year, the holidays are merry and bright. Embrace the magic of the season by setting the proper mood.  
A full slate of holiday movies is available on network television, cable, On Demand, and popular streaming channels. You can choose from timeless holiday classics or family friendly originals. Want to just relax and enjoy the ambience? There's always the festive Yule Log. Consult this year's 

holiday programming schedule

 and get that hot cocoa ready!

 

Golden West cable TV subscribers can tune into a variety of channels anywhere there is an internet signal with watchTVeverywhere. Take advantage of the flexibility by 

registering for a free account

. You can take a break from the holiday bustle and make it a Blockbuster night … from the comfort of your own home or a relative's house. 

 
If you have questions about your home Wi-Fi network or your internet speed package, contact the Golden West at 1-855-888-7777. 
Golden West does not endorse any product or service it does not sell.