Here's the Latest Scoop on Safe Digging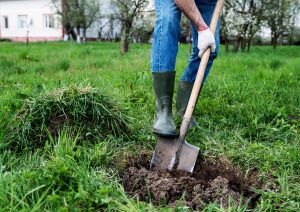 Virginians couldn't register to vote for the November election. Missouri residents got a busy signal when dialing 911. Government employees in Indiana were sent home early after service to the courthouse, county jail, and sheriff's office was disrupted. All three incidents occurred when fiber optic cables were damaged due to improper digging practices.
But it could have been much worse. Underground utilities cause countless injuries and deaths every year. Fortunately, there's an easy way to avoid becoming a statistic: dial 811.
Underground Utility Lines are Everywhere
In an effort to raise awareness of the dangers lurking underground, Congress declared April National Safe Digging Month. Calling 811 before you break ground isn't just a courtesy — it's the law.
And it just might save your life.
The great outdoors are exactly that, but there are always risks when leaving the comfort of your home. Many are easy to spot and avoid: uneven pavement, lightning flashing overhead, a bear charging you at breakneck speed.
Other risks are less obvious. While your odds of encountering a bear in South Dakota are slim to none, if you start digging holes in the ground, you are bound to run into buried hazards. Beneath all those neatly manicured lawns and prim flowerbeds lies a network of underground utility lines — including gas, steam, oil, propane, and electric.
Grabbing a shovel and digging without first calling 811 or submitting an online locate request at sdonecall.com is like playing Russian Roulette. According to the Common Ground Alliance, a utility line is damaged by digging every six minutes. That works out to 700,000 underground utility line strikes a year. In 2019, damage to underground infrastructure totaled $30 billion.
And the costs can be a lot higher. Between 1995 and 2015, 421 deaths and 1,906 injuries occurred when people struck underground utilities.
5 Reasons People Don't Call 811
According to the latest report from the Common Ground Alliance, 29% of damages in the U.S. and Canada were the result of people failing to call 811. Reasons for this include:
Lack of awareness. Public awareness of 811 has improved from 39% in 2008 to 50% in 2020. That's encouraging, but it means that half the population still doesn't know about the safe digging process.
Failure to grasp the consequences. Striking a utility line can lead to a service disruption for the homeowner or even an entire neighborhood. Worse, it can cause injury or death. Even if you're lucky and escape harm, you may be subject to fees and fines that can total several thousand dollars and aren't likely to be covered by insurance.
Belief that small projects are exempt. While installing a mailbox or planting a shrub might seem like too small a project to warrant an 811 call, many utility lines are buried just a few inches below the surface. All projects, big and small, must be approved in advance.
Misconception that 811 is for professionals only. Some people think 811 was established for professional excavators. Utility companies employing messaging that features construction equipment such as backhoes in their 811 campaigns perpetuates this confusion.
Previous excavation experience in that area. Even if you have previously dug in an area without issue, settling ground, erosion, and other factors can alter the location and depth of utility lines. Just because you haven't struck a line in the past doesn't mean you won't the next time you pick up a shovel.
When Should You Call 811?
If you're wondering when to call 811, the answer is simple: any time you are planning to dig. Common home projects that involve excavation include:
Mailbox installation
Building a deck
Planting a tree
Putting in hedges
Erecting a fence
Digging a pond
Pouring concrete for a patio
Installing an irrigation system
The process is simple. South Dakotans must call 811 or visit sdonecall.com at least two business days before digging. You'll answer a few questions about your project and 811 does the rest; they'll notify your local utility companies, who will visit your residence and mark the approximate location of buried utilities using colored flags or paint.
Once you've been given the all-clear, you're free to proceed! Keep in mind that you must dig by hand within 18 inches on either side of any markings — the so-called "tolerance zone."
Let the groundbreaking ceremony commence!
Sources: Some information for this article was provided by online articles from Call811.com, CommonGroundAlliance.com, and Urbint.com.