Long-Term Commitment
Renner Receives NTCA Director Life Award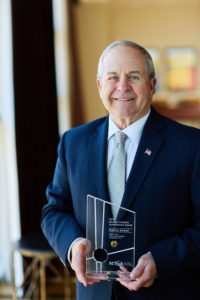 NTCA – The Rural Broadband Association awarded Golden West Board Director Rodney Renner with an NTCA Excellence Award for Director Life Achievement at their rural telecom industry meeting and expo in Phoenix, Ariz., on February 19, 2020.
Renner's 47-year tenure on the Golden West board makes him the organization's longest-serving board member, and he continues to serve as a director today. Renner was quick to share the honor with his fellow board members and others within Golden West.
"The way I look at it, this is more of an honor for all of us on the board and at Golden West," said Renner. "We're like a big family that works together for a good outcome."
Committed to the Cooperative
He also expressed his gratitude to the members of Golden West for their patience and cooperation as the cooperative expanded and rolled out new technology.
"We all work together to bring updated technology to all our members as quick as we can, given the size of the territory we serve. It's taken time, nut we made sure to be as fiscally responsible as we could."
Renner was recognized for his deep commitment to growing the Golden West Telecommunications Cooperative and for showing exceptional commitment to his community and the rural broadband industry, according to a release from NTCA.
Golden West CEO/General Manager Denny Law nominated Renner and detailed the many ways he has influenced and led the cooperative.
"Rod has played an immense role in the success of Golden West and has shown an unwavering, interminable commitment to the independent telecommunications industry," said Law.
Things Have Changed
Many things have changed since Renner first came on the board in 1972. The highlights of his time as a director include championing the acquisition of dozens of rural ex­changes to serve more members, being an early supporter for internet access, and meeting with policymakers to advocate for the technology needs of rural Americans.
"Perhaps his most profound accomplishment over the years is bis dedication to Golden West employees," said Law. "Few people have been as devoted to the individuals who work day in and day out serving the members of the cooperative as he has."
Rod, congratulations and thank you for your outstanding service and dedication to the members and employees of the Golden West Telecommunications Cooperative!