Crafting Community

Brewery Brings People Together in Hartford
Chris and Callie Tuschen fell in love with the craft beer scene while living in Oregon. After moving back to South Dakota , they turned their passion into a business. Today, their brew­ery in Hartford draws rave reviews from locals and visitors.
"The seed was planted eight or nine years ago," Callie says. "Chris' mother and I bought him a home brew kit for his birthday one year. He fell  in love with brewing  beer at home. He and I have always been of the entrepreneurial mindset, and we always wanted to start a business and be our own bosses."
"The Universe Aligned"
When the Tuschens moved to South Dakota to be closer to family in 2014, they didn't plan on starting their own business. Chris landed a job in Mitchell and, with three young children, their focus was on building a comfortable life. South Dakota was a natural fit; Chris and Callie grew up in different parts of the state, and Callie was able to homeschool their kids.
"It felt like the right thing for us to be near family again," Chris says.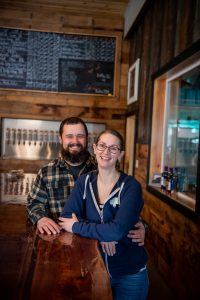 The idea of starting their own business began to take root a couple of years later. The couple first discussed logistics while visiting a friend who works as a chef in 2017. While they didn't ultimately partner with that friend, their conver­sation got the wheels turning.
Once the decision was made, everything came together quickly. They secured financing, broke ground, and opened within a 10-month span.
"It was serendipitous," Chris recalls. "The universe aligned, and everything just happened the way it was supposed to."
Community Feels Like Home
The Tuschens hadn't originally targeted Hartford, but the community quickly won them over. It turned out to be an ideal location for Buffalo Ridge Brewing Project.
"I absolutely love Hartford ," Callie says. "Moving here and opening a business has been a very positive experience. I lived in eight different places after graduating high school, and Hartford is the first place I've lived that actually feels like home. I think that's because there are people who have lived  here all their lives and  others  who have  moved  in more recently. There's a combination of all different kinds of people."
Callie serves as vice president of Downtown Hartford , f nc., a nonprofit dedicated to supporting and revital­ izing the downtown district. She also coordinates the farmers market.
"People come out in droves for it," she says about the farmers market. "lt highlights a lot of local hidden talent – hobbies, woodworking, crafting – and offers an opportunity for the community to come together."
A Mecca for Locals & Travelers
Between Chris's day job and Callie's community projects, it can be easy to forget the Tuschens also own a business … but the brewery spurred their move to Hartford in the first place.
Buffalo Ridge Brewing Project, located at 102 N. Main Ave., was a hit the moment its doors opened in November 2018. With a focus on freshly brewed craft beer, the taproom attracts both locals and travelers passing through town. They currently offer pint sales and growlers to go but hope to eventually build a production facility and expand into can­ning with both traditional sizes and larger 32-oz. crawlers.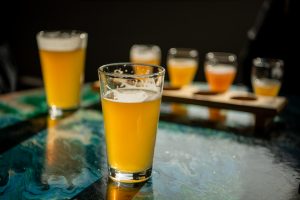 Indoor capacity is 90 and an outdoor patio seats another 30-40. In addition to serving beer and appetizers, the brewery hosts a variety of special events, including bingo nights where all proceeds are donated to charity. It's all part of the Tuschens' plan to  create a space for the  community to come together. "We really want to be that space where people can come and meet one another and just enjoy time together," Chris shares. "We are family and pet friendly; everyone is welcome. One of the comments we hear is, 'It doesn't even feel like we're in Hartford.' We have a different feel, a different energy. Breweries  have a  unique culture. It's a different space that people gravitate toward. It's awesome to provide a space that people really enjoy being in."
The Tuschens aren't the only ones singing Hartord's praises. The town was named South Dakota Small Community of the Year for 2020. Read more here.
Check out our Meet the Owners Video with Chris & Callie Tuschen of Buffalo Ridge Brewing Project in Hartford: