There's no place like home for the holidays …especially when your home is set up to take advantage of the latest smart technology.

From controlling your Christmas lights to cooking your turkey, smart technology gives you a leg (or drumstick) up on the holiday bustle. You'll have more time to relax and enjoy the eggnog when your smart devices to the heavy lifting.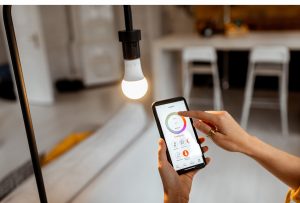 Let There Be Lights
Nothing makes your home look more festive than brightly colored lights. Whether you keep things simple or embrace Clark Griswold-style excess, Wi-Fi enabled smart lights are an easy and convenient solution. They include features like automatic programming, music synchronization, and smartphone controls. But upgrading to new holiday lights can be a major investment. No worries: you can still take advantage of smart technology using your existing lights. 
Smart plugs save you the hassle of crawling beneath the tree and ending up with pine needles in your hair. Available for both indoor and outdoor use, they plug into any existing outlet and, once you download the companion app, allow you to turn your lights on and off through your smartphone. You can also set a timer or schedule them to come on and go off at designated times. Linking them to a smart assistant like Alexa, Google Assistant, or Siri gives you the added benefit of voice control.  
Another option is swapping out regular bulbs for smart bulbs in your lamps. These are available in a multitude of colors and let you create custom scenes to match your holiday decorations or home decor. Smart bulbs can also be controlled with a smart assistant.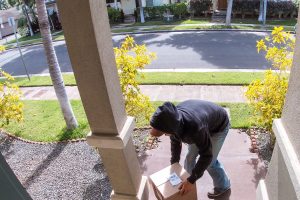 Don't Let Grinches Steal Away 
December is prime gift-buying time. Nowadays, those folks who opt to shop online means packages arrive by mail or shipping carrier — often when they are away from home. An unattended box on a doorstep can prove tempting for porch pirates. A video doorbell may act as a deterrent for a would-be thief. Often, the mere sight of one will dissuade somebody from making off with packages. 
Popular models, like the Ring and Google Nest, enable you to see who is on your front porch and alert you to deliveries via a smartphone app. You can dash home to retrieve your package or bribe a neighbor to grab it for you (cookies are excellent motivators). The video data might even help you identify a thief if your delivery ends up in the wrong hands. 
Feast on This
The holidays are synonymous with cooking and baking. A smart assistant can help with simple tasks like adding items to a shopping list, converting measurements, finding recipes, and setting timers — all with a few simple voice commands.
There's a whole slew of smart appliances that can take your cooking game to the next level. Smart scales not only measure ingredients: they provide a nutritional breakdown, so you don't overindulge on cheesecake. Smart meat thermometers monitor the temperature of everything from roasts to poultry, letting you know over your phone when supper is ready. A smart oven will take the guesswork out of cooking, regulating temperature and airflow to ensure a flawless holiday spread. And smart refrigerators with built-in screens can do everything from creating grocery lists to letting you see how much leftover pie is still there without even opening the door.
If you have questions about your home Wi-Fi network or would like help maximizing speed to take advantage of the latest smart technology, contact the Golden West Help Desk anytime at 1-855-888-7777.

Golden West does not endorse any of these products or services. 

Sources: Some information for this article was provided by online articles from Hippo.com, Yahoo!, New York Times, Asurion.com, and NBCNews.com.