The 

"Things" Behind the Internet of Things
IoT Provides Security, Comfort, & Convenience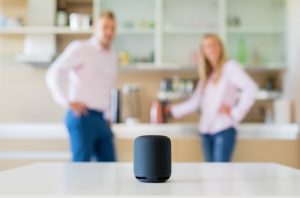 The Internet of Things (IoT) is a term you might have heard from tech-savvy friends or coworkers. The phrase, first coined in 1999, refers to the network of physical objects ("things") that connect to the internet and share data.  
It all began with a Coke machine on the campus of Carnegie Mellon University. In 1970, members of the school's Computer Science Department installed microswitches to keep track of bottle availability in the popular machine. Today, the IoT is vast; it's comprised of some 50 billion interconnected devices embedded with technologies such as sensors and software to communicate. Virtually any device preceded by the word "smart" (and many without) qualifies as an IoT device.  
Favorite IoT Devices 
Technology has evolved so quickly, we now take for granted many objects that didn't exist just a short time ago. They're so commonplace around our homes, we even refer to some of them by name (Alexa, Siri).  
We asked Golden West employees to share their favorite IoT items — products they couldn't imagine owning 10 years ago but can't live without today. Judging from the number and variety of responses, it's clear many fully embrace the IoT. 
Smart Thermostats 
"What is it about thermostats that dads need to have sole control over?" wondered Alan. He may be onto something, as four respondents (all males) declared smart thermostats essential to regulating their homes' comfort.  
"I can turn the temperature on my Nest thermostat up before I leave work so it's nice and warm when I get home," Seth Nowak said. This ability to control their home's temperature remotely was a factor in all the responses, though Jamie admitted to using his smart thermostat "even when I'm just too lazy to get out of my recliner."  
We're not judging, Jamie! 
Wearables (i.e. watches)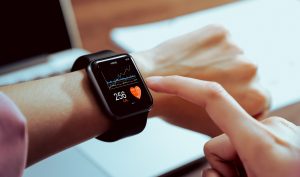 Wearables are another favorite IoT object...and telling time has little to do with this. Susan uses her Apple watch to answer calls and see texts. "I also use it as an alarm, a timer, for calendar reminders, etc." she said.  
Amy is partial to her Fitbit watch. "Not only does it count my daily steps," she said, "but it provides me with calories burned and heart rate. I also use it to track my sleep, how much water I drink, and the food I eat." 
Smart Beds  
Dee also tracks her sleep. She and her husband upgraded to a Sleep Number bed that connects to the internet. "We can see things like how long it takes each of us to fall asleep, how long we sleep, and what our heart and breath rates are. But be careful," she warned. "The bed is turning our sleep data into a competition. The other day I received a push congratulating me on getting a better sleep score than he did.
Security Cameras  
Smart cameras provide security and allow employees to check in on family members. Anthony uses Blink cameras as baby monitors. He gave a similar indoor camera to a friend for Christmas. "She checks up on and talks to her cat multiple times a day!" he said. Hey, pets are family members, too! 
Kelly has an Arlo camera in her front yard, so she'll know when a package has been delivered or somebody has stopped by the house. Another camera in her backyard serves a different purpose. 
"We have a large yard and the deer, rabbits, and other critters are fun to watch," she said, before adding ominously, "The sound of a mountain lion on the camera was NOT pleasant."  
Smart Appliances  
Smart appliances play a big role in Hailey's daily routine. "Whether it's pre-heating my oven on the way home from work or restarting my dryer in the morning so my laundry is warm and fluffed, I could never go back," she said. "Even my garage door is smart, so I can have peace of mind that I closed it before I left for the day." 
And More…   
Other items popular with Golden West employees include Ring doorbells, iPads, precision cookers, and treadmills. Jill's submission just might be the most unique. "We have collars for our working cow dogs," she explained. "We live next to the interstate and wanted to know if they were wandering too close to it. We track their steps, rank their activity against other dogs, and can locate them anywhere outside, which comes in handy when they help us with cow work." 
Now we've "herd" it all!  
All items mentioned are third-party products. They use the cooperative's internet connection, but they are not sold by Golden West. Golden West does not endorse any product or service that it does not provide.  
Sources: Some information for this article was provided by online articles from Network World, Forbes, ZD Net, Oracle, and Machine Design.