Read the History of Cable TV: Part I, here.
The History of Cable TV: Part II
When the first community antenna television (CATV) system was launched in 1948, the cable television industry took off. Deregulation, advancements in technology, and infrastructure improvements allowed cable to flourish over the next 50 years.
Stricter regulations in the early 1990s threatened to slow that momentum, but by then cable TV was firmly ingrained in Americans' daily lives. An emphasis on quality programming beginning that decade ensured that cable would continue to play a strong role in the new millennium.
The Second Golden Age of Television
The 1980s were a particularly strong period of growth for cable TV as legislators overturned most of the regulations prohibiting expansion. By the end of the decade, approximately 53 million people subscribed to cable.
Concerned that rapid expansion was driving up prices and preventing people from accessing local channels, Congress passed the Cable Television Consumer Protection and Competition Act of 1992. This required cable operators to carry local commercial television signals and capped price increases. Despite a return of stricter regulations, cable continued to grow throughout the 1990s. Two factors helped contribute to its success.
In 1996, the 56k modem was introduced. While this sounds unbearably slow today, at the time it was revolutionary. Home consumers were able to access the World Wide Web, as most people referred to the internet back then, much more quickly. This paved the way for less expensive digital set-top boxes and an influx of new video services. To accommodate digital broadcasting, cable operators began using hybrid fiber optic/coaxial cables to provide faster service.
With increased competition, cable networks began to focus on creating original scripted series of their own, ushering in what has come to be known as "The Second Golden Age of Television." Free from the restraints of over-the-air broadcasters, their shows could be edgier. HBO's The Sopranos, launched in 1999, was the first big hit, with plenty of others following. Programs like Six Feet Under, The Wire, Battlestar Galactica, Mad Men, and Breaking Bad all received critical acclaim and captured the hearts of viewers hungry for something different.
These factors helped boost the number of cable subscribers to 67 million by the end of the 1990s.
Broadband & Fiber Optics Are Game-Changers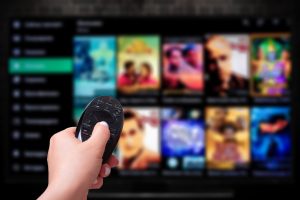 With the arrival of the new millennium, cable operators increasingly looked at new ways of delivering content. The rise of broadband in the late 1990s and early 2000s made this possible. Dial-up modems tied up the telephone line, whereas broadband split the signal, allowing users to go online and make phone calls at the same time. Faster connections made high-speed internet a reality.
As prices dropped, new products and services, such as Video on Demand (VOD), High-Definition Television (HDTV), Digital Video Recorders (DVRs), and Voice over Internet Protocol (VoIP) telephone services emerged. Wi-Fi brought additional changes, allowing users to enjoy entertainment on the go from their mobile devices.
Cable was well-positioned to take advantage of improved technology and operators invested heavily in infrastructure. Companies like Golden West recognized the advantages fiber optics hold over coaxial cable and committed to expanding their fiber networks.
Technology advances also led to increased competition, especially from streaming services. While the idea of "cutting the cord" may be tempting, cable offers a simpler way to watch TV. All your channels are available in one place, eliminating subscription fatigue, and there is only one bill to pay. Plus, you can watch live TV … essential for news junkies, sports fans, and others who simply can't wait to see who is crowned the next Bachelor.
Viewing Habits Change But Cable Still Delivers
Viewing habits may have changed over the years, but cable continues to appeal to diverse audiences. Networks cater to individuals with specific interests — everybody from foodies and DIY enthusiasts to cartoon lovers and true crime aficionados. The coronavirus pandemic altered viewing habits as consumers were drawn to this type of niche programming. Food Network is a great example: as people quarantined, its ratings surged to levels not seen in years and remain high. Other networks have taken note and are ditching scripted series in favor of unscripted programming. It's a "new" trend that relies on a tried-and-true formula from the past.
Cable television's history has been one of literal peaks and valleys. It has evolved from a few towers in remote areas to near-limitless entertainment options in nearly every corner of the country. While its future has yet to be written, one thing is certain: 82.9 million subscribers are along for the ride.
Sources: Some information for this article was provided by online articles from Encyclopedia.com, NCTA.com, BroadbandNow.com, Variety.com, and CalCable.org.