The Browns Are Happy Campers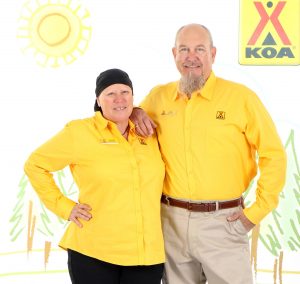 Like many modern-day nomads, Bob and Karen Brown traded in walls for wheels. After traveling from place to place for a few years, they decided a seasonal home under the stars would give them the best of both worlds.  
The Browns have owned the Badlands / White River KOA Holiday campground since 2014. Located five miles from the Interior gate of the Badlands down Highway 44, this hidden gem serves as the perfect gateway to exploration.  
Wi-Fi Connections & Airports  
Bob and Karen didn't wait to retire before committing to the RV lifestyle full-time. Bob's work as a sales engineer for an international drilling services and supply company took him all over the globe. He put in underground utilities in Cancun, drilled water wells in Las Vegas and Salt Lake City, worked on mineral exploration projects in Wyoming. As long as they had a dependable Wi-Fi connection and close access to an airport, they could live in their RV while Bob worked.  
Eventually, he had an epiphany. 
"One day he turned to me and said, 'We could use a campground as our retirement vehicle,'" Karen—a former college instructor who taught math and physical science—recalls. "'We could manage a campground instead of having me run all over the globe.' We'd been living in campgrounds for a couple of years and decided we were smart enough to figure out how to run one, so I said, 'I'm in!'" 
It took the Browns several months to find the right campground, even though it turned out to have been right under their noses all along. The Badlands / White River KOA Holiday was the first one they looked at, but they wanted to explore a few other options before committing. Eventually they circled back and decided their first choice was the right choice.  
"We were looking for a place we could run on a seasonal basis," Karen explains. "One that wasn't dependent upon being open year-round and could pay its own bills." 

Fiber Upgrade Proves Beneficial
The Badlands / White River KOA Holiday campground was built in 1972. The original owners sold the property in 1990. Since then, several owners have cycled through. The Browns have been running the campground for seven years now.  
Despite having no experience working in a campground, Bob and Karen are managing operations quite well. With infrastructure a major challenge, a recent fiber upgrade improved connectivity — and that made an immediate positive impact. 
"The business was driving it," Karen says. "Copper wire connections and limited bandwidth were issues for our guests. Now that we have invested in the infrastructure that fiber optic supports, everybody tells us it's the best Wi-Fi they've ever had in any campground they've been to."  
That dependable Wi-Fi service also made a difference last year for families traveling during the early stages of the pandemic. 
"The big impact last year was Zoom school," Karen explains. "People figured, why should we be in the house when we can just get in the RV and go?  They were traveling with their kids who were in school on Zoom, and our Wi-Fi was able to support that." 
Staffing also proves problematic at times; when COVID-19 reared its ugly head, a lot of their seasonal employees didn't feel comfortable traveling. Additionally, they had to deal with cancellations early on, but that setback proved temporary: by mid-June bookings were back up to average, and after the 4th of July, they really picked up.  
"We were full every night after that," Karen says. "We even opened an additional 10 nights in October and every site we had open was full. Normally by the third week of September, it's just a handful of people here."  
A Genie in a Bottle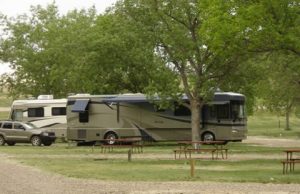 Karen compares running a campground to unleashing a genie in a bottle.  
"All day long it's, Poof! What do you need? Poof! What do you need?" she laughs. "The campground business is like the tide. It goes out in the morning, and we work to get everything cleaned up and ready. Then, it comes back in the afternoon."  
With 70 RV sites, more than 50 tent sites, and 15 accommodations—a mixture of rustic and modern log cabins, traditional canvas tepees, and even a yurt—the campground offers experiences tailored to a wide variety of campers, from families with young children to Nomadland-style retirees. That's a lot of ground to cover, so the Browns have no problem staying busy. Despite the often-chaotic balancing act that is required when running a campground, Karen has no regrets.  
"I really like helping the guests have a wonderful time!" she gushes.