Sometimes, Facebook Really Gets Your Goat 
When Teri Arneson of Elm Springs drove into town one day, everybody was gathered at the fire station. Her curiosity sparked her to start a community Facebook group to help with communication.  
That was 2014. Today, the Elm Springs Community News, Etc. Facebook group has 442 members regularly sharing posts. 
"Down where we live, we don't have cellphones," Teri explains. "A community group is a good way for people like us to stay in the loop."  
Community Groups Promote Shared Connections 
Facebook has long offered the option to create pages and groups. Pages are typically used by businesses, brands, and celebrities to promote products, services, and activities. Groups, by contrast, are community-based places where everyday people with similar interests gather to discuss specific matters relevant to all. Group members receive notifications whenever another member creates a post, keeping them in the loop when it comes to important activity.  
Community groups like the one in Elm Springs offer residents an opportunity to learn about specific activities and share their opinions with their literal neighbors. Teri prides her community group on its efficiency. 
"When I need a tire or something like that, it's easier to throw it out there and let them call me, instead of me calling 30 different people in the community … and then half the time you don't get them because they're all outside!" 
A Diverse Range of Topics 
Community groups can be found for towns throughout South Dakota, both large and small. They're especially popular in rural communities, where they help keep people connected. Some groups focus on events and others are geared toward classified advertising, but most are a mix of general information. 
A quick glance at these groups illustrates their diversity: an Avon café's Thursday lunch special is tater tot hotdish; Buffalo Gap is looking for park cleanup day volunteers; Dell Rapids is advertising a cornhole tournament; a Hartford resident inquired about golf cart insurance; a farmer in Interior was selling a haybine; in Marion, the middle school musical is fast approaching; and a Custer resident wanted to know where the fire truck was headed.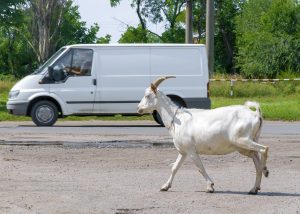 One thing that all community groups seem to have in common is lost animals. In South Dakota, these range from the usual cats and dogs to missing sheep, wandering steer, and a wayward goat making its way down Main Street.  
Elm Springs Group Featured on SDPB 
The topics on the Elm Springs community group are representative of those found elsewhere. 
"I share anything that happens around the community," Teri says. "If somebody's going to town for parts, if there's cattle out somewhere, if you need to borrow something. Birthdays are a big thing. Lost and found. Student of the month. The Wasta bar has steak feeds Fridays and Saturdays and I try to remind everybody. Every once in a while, I put a joke out there for fun."  
Teri is so committed to her community Facebook group, others have taken notice. She was featured in a South Dakota Public Broadcasting segment in 2020 called "Connecting Rural South Dakota: Elm Springs." She considers it a humbling experience.  
"My husband Lonnie is an auctioneer, so I can get up and chat with anybody in the world," she says. "But I cannot be on TV! I just choke."  
Want to see if your town has a community group? From your News Feed, click Groups in the left menu and type the name of the community in the Search field. If you've found what you're looking for, simply select Join Group and, once you're approved by the administrator, you'll be on your way to helping your neighbors track down their missing goats! If your area doesn't yet have an organized group, consider starting one yourself! 
Sources: Some information for this article was provided by online articles from Facebook, Marketing 91, and Social Bakers.