Honored chef finds purpose and influence in Custer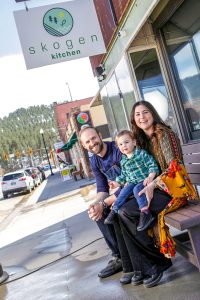 Joseph Raney grew up, attended culinary school and worked for multiple prestigious chefs in southern California. He met his wife Eliza there, and the couple eventually moved to Custer.
Joseph attended culinary school at the Hollywood Kitchen Academy, where one of his instructors was Chef Eric Greenspan. Chefs Florent Marneau, Nick Weber, and Joachim Splichael were among the other top chefs who have also influenced Joseph's career.
"My wife is from a small town in Minnesota, and she just wanted to find that again," Joseph says. "We were ready for a new adventure."
Joseph made an offer on a home in Custer during his first visit to South Dakota. Eliza had never been to Custer either but was unable to accompany him on the trip.
The couple spent the first year getting to know their new community. Eliza did some substitute teaching and worked at Black Hills' Burger and Bun. Joseph was still looking for purpose in Custer when the couple began planning to open their own restaurant in the burger place's original location.
This month marks their sixth year of serving some of the Black Hills finest cuisine at Skogen Kitchen. Custer residents, business owners, and tourists have responded positively to the high-end restaurant, which can be booked with reservations weeks in advance. Recently Joseph was named a Midwest semi-finalist for the prestigious 2023 James Beard Award.
"We wanted something universal, and we realized the people here were a lot more down-to-earth," Joseph says. "We just began cooking what we love to cook and serving guests the way we know how."
James Beard Award Semi-Finalist
A national chef award like the James Beard Award draws a lot of attention to Skogen Kitchen and the small town of Custer. While Joseph appreciates the honor, more than anything he is thankful for the team effort involved in receiving such a highly honored award.
"If people aren't showing up for work or working hard, and the cooks aren't putting everything they have into the dishes, then who am I?" shares Joseph.
The James Beard Foundation is a non-profit organization with a mission to support and celebrate those behind the scenes of America's food culture. The annual James Beard Award is determined and voted on by a committee of professionals and former award recipients.
"It's great for Custer because it draws more attention to the community," Joseph says.
Stick to What You Love
The word "Skogen" is Norwegian for "the forest." Joseph's Norwegian heritage paid tribute to an appealing and appropriate name for the restaurant. And appealing is exactly what they aim for with their menu. Customers can find Joseph experimenting with different foods and flavors, deciding what could possibly go well together.
"We really try to just constantly change things," says Joseph.
When first opening Skogen, Joseph and Eliza faced many questions about having a higher-end restaurant in Custer. Joseph says Skogen has influenced those in the community of Custer and everyone who experiences their small, elegant restaurant.
"I think that's what Skogen has done. (It has) influenced people to just go for it and not have any perceptions of what they think – to really choose what you love and do that. Don't choose what you think others will love. Focus on what you like," he says.
Sparking Custer's Culinary Scene
Joseph and Eliza initially served breakfast and evening dinner at the restaurant. As business picked up, they found the pace too hectic. After about a year they eliminated the breakfast option, but customers kept asking about it. The Raney's welcomed their son Roark to the family in June 2021.
Eventually Joseph and Eliza attracted friends and family to the area, which further expanded Custer's culinary scene. Eric Hjortnaes, a brother of Joseph's best friend, and Camillia Belland, Eliza's younger sister, were without jobs during the pandemic. Both came to work at Skogen Kitchen. Eric was previously a teacher and film writer from California, while Camillia came from the Twin Cities.
A year ago Eric and Cami opened a new restaurant in Custer called HJEM A.M., which means "home" in Danish. As the A.M. implies, the new restaurant serves breakfast, including many of Skogen's previous breakfast entrees. Eric and Cami will
be married in October.
Technology Helps Business Succeed
Joseph understands the value of using technology within the food industry. A restaurant is a low-margin industry, he says, and technology can help employees, improve service for guests, and increase profits.
He and Eliza are thankful for the quality service and reliable connections Golden West provides. He says it helps them successfully run their business.
"Since the fiber upgrade, my internet works better here than it ever did in California," Joseph says.