Sisters help customers near and far sewing quilts and community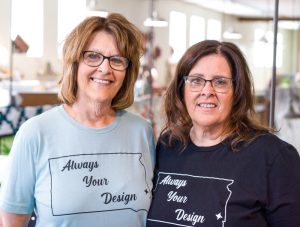 Sisters Deb Mergen and Diane Bunkers gave up jewelry repair to open a quilt shop even though they had little to no knowledge about quilting.
"The only sewing experience we had was from church, about once a year," Diane says.
Twenty-three years later the sisters continue to own and operate Always Your Design in a historic Main Street location in Dell Rapids. Their shop was recognized as a "Top 10" quilt shop in the Better Homes and Gardens magazine in 2018.
A local connection started it all
Deb and Diane's careers took a turn when they crossed paths with Linda, a skilled quilter who owned a café on Main Street in Dell Rapids. The sisters jumped in and began learning. They started by cutting fat quarters; pieces used for sample quilts.
After learning the basics of quilting, the sisters became intrigued by a building on the north side of the Dell Rapids Main Street. No one had rented the building for about 30 years. Always Your Design got its start here before relocating later across the street to its current location.
"We wanted to be in business at least seven years," Diane says. "There was a quilt shop in the area that was in business for seven years and was very successful, so that was our goal."
Always Your Design has become a haven for quilters near and far. What began with a collection of 200 fabric bolts has turned into an expansive inventory of around 6,000 bolts. Deb and Diane say their true success lies in their customers, who are their best supporters.
"We're still learning, and I think that's what people like about us," Diane says. "We're honest and let customers know what we can and can't do for them."
Supporting the local community
Deb and Diane pour their talent and love into various community activities, such as quilting baptismal gowns for their church and creating baby blankets for stillborn infants at a local hospital. They also organize a pillowcase drive every year with the help of their customers.
Golden West services have played a pivotal role for Always Your Design. In an era where word-of-mouth can only reach so far, the online presence provided by Golden West helps draw attention to the shop.
The sisters share live videos online promoting their products and the latest additions to their shop. These videos bridge the physical distance between the shop and distant customers.
"People wouldn't know we're here if we didn't have Golden West," Deb says.