Rugged custom-built trailers
gain fame on TV, in movies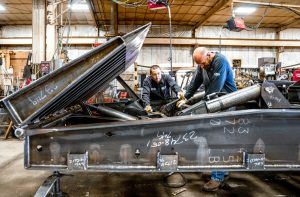 South Dakota-based trailer manufacturer; TRAIL-EZE, has been delivering on its "Trailers for any job" tagline for 59 years. The company specializes in custom-built equipment-hauling trailers, and with payload capacities from 10 to 75 tons, these trailers are built to last. That's according to the company's production manager Stacy Murtha.
"Quality means everything. It really is the foundation at TRAIL-EZE," says sales manager Shawn Murtha – Stacy's brother. "We recognize if our customer is happy, and they are successful, then we [the company] will be successful."
TRAIL-EZE trailers can be found across the U.S. – and in a few international locations. The trailers are used in various industries from construction, oilfield and agriculture, to towing, government and rentals for moving equipment. The company manufactures their products at plants in Corsica, Platte, and Mitchell, and holds more than 20 patents for specialized products.
As a testament to the ruggedness of TRAIL-EZE trailers, they can occasionally be seen in use on two Canadian reality television shows that profile efforts to keep Canadian highways operating during the brutal winter weather. Those shows are Heavy Rescue 401 and Highway Thru Hell. Additionally, a TRAIL-EZE trailer can be seen transporting an oversized load in the 2007 movie Ocean's Thirteen.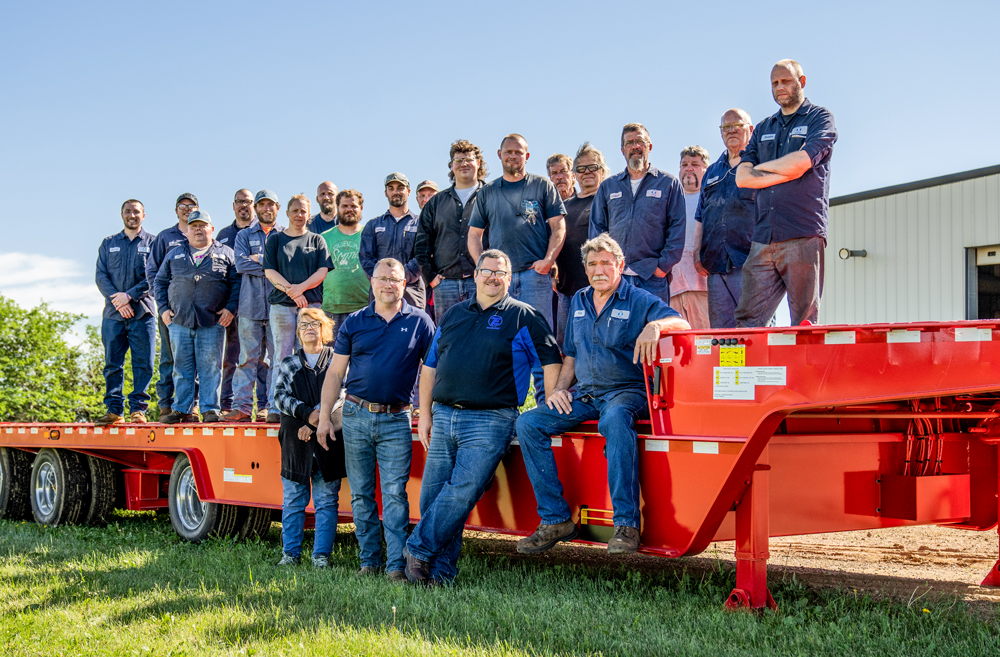 Product Pride
For the nearly 110 TRAIL-EZE employees, there's a lot of pride that goes into building these custom trailers. Shawn tells that he still gets whiplash when he sees a TRAIL-EZE trailer go by on the interstate.
Dale Dierks, sales engineer for the company, sees a lot of that pride from employees, as well. He says it is not unusual to be texted a photo from an employee showing a weld or a paint job on the trailer they are currently working on.
Investing in Employees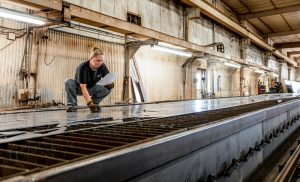 Janice Huber, TRAIL-EZE purchasing manager, says the company's family atmosphere and willingness to listen to employees contribute to the company's success, too.
She notes at TRAIL-EZE employees are important to the business and says, "We are willing to try when they do have ideas they want to improve on. We've been known to make floor model improvements mid-stream because of input from employees."
That employee-focused atmosphere has fostered employee retention. Several employees have been with the company for 30, 40, and even 50 years. Often, new hires come from employee referrals, as well.
Stacy jokes that "smoking meats" doesn't hurt as an employee perk either. The company is known to host employee picnics and Christmas parties, and "enjoys any reason to celebrate and have fun," he says.
Stacy adds, "We support golf tournaments … softball teams … we're big in supporting things that are near and dear to our employees." A summer fishing tournament concluded with a fish fry of all the fish caught that day for employees and their families.
Automation Ahead
Since the company's inception in 1963 in Mitchell, growth and expansion has been the name of the game. Manufacturing in Platte was added in 1974 and has more than doubled in size since, and the Corsica facility came online in 1989 and has focused on the hydraulic tail trailers.
The next big step for TRAIL-EZE is automation. They are already working robots in two of their three locations to accommodate their growth. Stacy explains that the robots can work at night. Then, he says, "We'll be able to come in the next morning and have three or four big assemblies ready to put on our trailers."
Another upgrade the company is excited about is the Golden West fiber optics connection being brought to their Corsica facility. "We've really wanted that for a long time. Our building there is in a cornfield, so we are really excited about getting that line to us," shares Janice.
The connectivity will be essential to the sharing of information between the three TRAIL-EZE locations. Manufacturing has also been digitized, and blueprints are electronic documents now, not on paper, explains Dierks. TRAIL-EZE creates all the prints in Mitchell and shares them with the other manufacturing locations via the company network.
"Having reliable internet service gives us the ability to react quickly," Dierks says. "If a customer calls with a change order, we can share those changes electronically and make them on the fly instead of having to wait a day to print a piece of paper, mail it down, or drive it down."
Fast, reliable fiber optics is one more tool that TRAIL-EZE will use to meet customers' expectations into the future.